Estimated read time: 2-3 minutes
This archived news story is available only for your personal, non-commercial use. Information in the story may be outdated or superseded by additional information. Reading or replaying the story in its archived form does not constitute a republication of the story.
Kim Johnson ReportingThere's magic in the air again and Harry Potter fans are salivating. The 6th book in JK Rowling's hit series hits store shelves tomorrow at midnight.
At Borders in Murray you see the sign, do not open until July 16th. Not even the employees are allowed to open the boxes or take the books out and look at them. They can't even take the boxes out of the back room until just before midnight tomorrow night.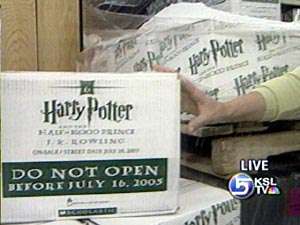 Only two days left, the sign says. Two days until Harry Potter and the Half Blood Prince is transported from book stores, into the hands of devotees. Borders employees expect it will be the biggest book release in their company's history.
Greg Near, Borders Marketing Manager: "The last book we sold as a company worldwide, over 900-thousand copies in the first weekend. This is going to be bigger."
Sixteen-year old Krysten Leslie plans to be there with her friends tomorrow night.
Krysten Leslie: "I've always been into mystery, a lot, and there's always a different kind of mystery in it. And I don't know, it's just really fun and like adventurous and exciting for me. Even though it's portrayed as a kids' book, I think adults can enjoy it too."
Greg Near: "Readers love these characters, they love the story, they love to just kind of be swept away by the fantasy in these stories. It is really a publishing phenomena."
At locally owned Kings English bookstore, boxes of the new book were arriving today and employees were in the final stages of planning a big party.
"The parking lot will be blocked off and we'll have henna painting over here by the street, and hogsmeat is where we're going to have food and drink set up for kids to purchase. We'll have a fortune teller, face painting."
And back at Borders they've also been preparing for weeks for the release of this book, and the big party they'll have when this goes on sale tomorrow night.
×
Most recent Utah stories