Estimated read time: 2-3 minutes
This archived news story is available only for your personal, non-commercial use. Information in the story may be outdated or superseded by additional information. Reading or replaying the story in its archived form does not constitute a republication of the story.
Nadine Wimmer Reporting The new Salt Lake City Library is a hub of technology and information, but there's another reason it's drawing large crowds this summer, and librarians fear it's not in the best interest of some children.
The Salt Lake City Library may be a victim of its own success. A growing number of parents are using the library during the summer as a day care center. On a hot summer day, it's not unusual to see 40-50 children, there alone, many simply dropped off by their parents.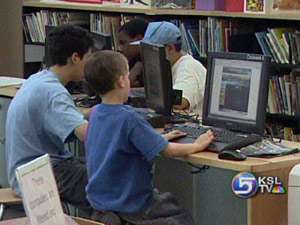 Librarians certainly don't want to discourage reading, but too often that not what's going on.
Lisa Myron, Children's Library Manager: "Children who are here for hours are frankly, not bookworms. They're not sitting here reading, they're looking for something to do, and they get creative."
They can turn to mischief, vandalism, and theft. That's not the only concern. Librarians try to keep an eye on kids, but just like a public park, there are people from all walks of life. Their jobs helping patrons are interrupted by young children left alone.
"We have children come for the day and then come tell us they're hungry, they weren't even left a lunch. You gotta think about this."
"We find ourselves running across the room to answer the phone in the middle of helping someone find their dinosaur book, only to find it's mom once again calling to check on her children."
Librarians want to provide a fun, safe environment for kids, but not to the point where it becomes a liability.
"The public library is not a place for your child to spend the day unattended."
There's no law that specifies at what age you can leave a child alone or for how long. KSL talked to police and learned child neglect hinges more on what would be considered "reasonable," so each instance would have to be weighed differently.
×
Most recent Utah stories