Estimated read time: 2-3 minutes
This archived news story is available only for your personal, non-commercial use. Information in the story may be outdated or superseded by additional information. Reading or replaying the story in its archived form does not constitute a republication of the story.
John Hollenhorst ReportingUtah is having an exceptionally bad year for boating accidents, and experts say something very simple would reduce the death toll. You've heard it before: "Wear a lifejacket!"
Under the law, you are required to wear a lifejacket on any boat if you're under 13. Older people have to if they're waterskiing, jetskiing, or boating on most rivers.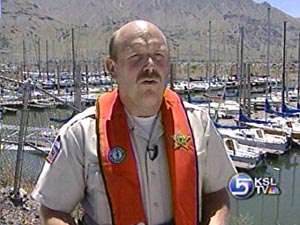 But experts say everyone ought to wear one on any boat, any time.
So far this year, nine people have died in Utah boating accidents. That's three times more than last year, already, and there are still many weeks of boating left. The fatal accidents are of several different types, but the biggest problem, and its solution, couldn't be more obvious.
Last year, about half the serious boating accidents in Utah, 33 out of 70, occurred at Lake Powell. Jordanelle Reservoir was a distant second with 10. Utah Lake had only 4.
In the last three years, 18 people have died in boating accidents. Experts figure 11 of the 18 would be alive today if they'd been wearing lifejackets.
Dave Harris, State Parks Boating Coordinator: "We've had nine fatalities and probably five of those could have been avoided if a lifejacket had been worn."
That reflects a national analysis by the Coast Guard. 800 fatal boating accidents last year, more than 700 victims would still be alive if they'd only worn lifejackets. In light of those statistics, the reasons people give for not wearing them seem a little weak.
Dave Harris: "It ruins their suntan. It's not comfortable. Sometimes they're hot. If you're on a southern lake, or whatever, they're hot."
Here's an option if you like something a little less bulky and a lot more comfortable. Try the inflatable type. It starts out small, until you need it. State Park rangers wear the inflatable type now whenever they're on a boat.
Dave Harris: "It's lightweight, doesn't affect your maneuverability. If you're casting or whatever, it doesn't affect your maneuverability very much."
The Coast Guard recently approved the inflatables for situations where lifejackets are required to be on board, but not necessarily worn. But let's face it, if you don't wear them, they're not much better than nothing.
Dave Harris "Might ruin your suntan, right here. But other than that, they're a lot better."
The legal requirements are a bit confusing. If you want to learn more, you can go to the State Parks website, linked at the top of this story.
×
Most recent Utah stories