Estimated read time: 2-3 minutes
This archived news story is available only for your personal, non-commercial use. Information in the story may be outdated or superseded by additional information. Reading or replaying the story in its archived form does not constitute a republication of the story.
Tonya Papanikolas ReportingSummer is the time for injuries. Over the weekend, an Eden man was killed after he fell from a horse, two boys were taken to the hospital after a carnival ride broke in Clinton, and a boy scout was injured while sledding down a snow field near Mount Nebo.
In the summer, we have more activities to choose from. That basically means we have more ways kids and adults can get hurt.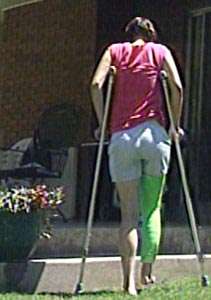 People can come up with a lot of unique ways to have fun during the summer, from water activities to hang-gliding. But 15-year-old Alison Cheney has been spending much of her summer indoors.
Alison Cheney: "Sit at home, work on puzzles and hang out."
That's because last month Alison broke her leg on her backyard trampoline when she and some friends were playing dodge ball.
Alison Cheney, Broke Leg on Trampoline: "I was gonna step on the outer bar of the tramp, but someone's hand was there, so I moved in mid-air, and one leg went through the springs and I flipped over."
Trampoline accidents are not uncommon during the summer and they're just one type of injury. From June 1st to July 8th of this year, Primary Children's Hospital treated and released almost 900 trauma patients who were not in auto-related accidents, and they admitted 93 overnight. If you break down that number, you can see a trend.
- 39 were falls
- 21 were bike accidents
- 13 were sports-related injuries
Dr. Howard Kadish, ER Physician, Primary Children's Hospital: "This is sort of our high-volume time. Certainly given that it stays lighter later, certainly given that a lot of people are outside doing a lot of neat activities, we see a lot of trauma patients."
Dr. Kadish says the majority of these accidents can be prevented.
Dr. Kadish: "They can be prevented by proper use of helmets, safety gear, whether it's your riding your bike or an ATV."
Alison says she knows how to be safer next time as well.
Alison Cheney: "Don't have a lot of people on the tramp. And put pads around the tramp."
According to Primary Children's numbers, other ways kids got injured were by lawn mowers, ATVs, animals or water; so doctors say the other way to keep your kids safe is really supervise them closely.
×
Most recent Utah stories