Estimated read time: 2-3 minutes
This archived news story is available only for your personal, non-commercial use. Information in the story may be outdated or superseded by additional information. Reading or replaying the story in its archived form does not constitute a republication of the story.
Samantha Hayes ReportingIt didn't take long for West Jordan police to arrest two of the suspects in a violent convenience store robbery this month. They have a witness to thank for the information, information that this time came in color.
We're talking about the surveillance camera, but these aren't the usual grainy, fuzzy, pictures. If you knew these guys it wouldn't take any time to recognize them.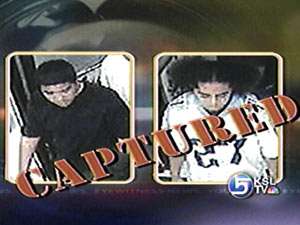 "Slim Jim" robbed 16 banks along the Wasatch front before police could catch him. He never disguised his looks, the surveillance cameras just weren't that good. They probably looked something like the old 1980's models.
Joshua Carter, Security Systems Group: "Old, they are outdated and from where they've come today from where they were before is just apples and oranges."
Now, you can tell an apple from an orange, even in the dark. Special night time cameras caught some crooks stealing tires at 3 a.m.
Joshua Carter: "On the newer ones you can move them around, set it where you like."
They go on walls, hang from the ceilings, and can be disguised as alarm clocks, or hidden in the clock. Your neighbor may have one in his house. Camera technology has improved by leaps and bounds over the years, but when it comes to identifying individuals, there's one thing that makes all the difference--color.
Cpt. Gary Cox, West Jordan Police: "Its only because of that we were able to actually identify and apprehend two of the suspects."
The three young men in the video stole beer from the Maverick store after punching the clerk in the face. Police received more than 50 calls after the footage was shown on the news. Police say if the images are not in color, it helps if they are at least clear. And the better quality technology is not that expensive anymore; a one camera digital surveillance unit runs about 400 dollars.
×
Most recent Utah stories