Estimated read time: 2-3 minutes
This archived news story is available only for your personal, non-commercial use. Information in the story may be outdated or superseded by additional information. Reading or replaying the story in its archived form does not constitute a republication of the story.
Ed Yeates ReportingIn case you haven't noticed, there are fewer TRAX trains on the tracks these days. With heavy ridership where it's at right now, commuters have been accustomed to four cars attached to the trains. But this month most have been short.
Five years and 400-thousand miles on the odometers on many of these trains. It's time for a little rejuvenation overhaul. That's why UTA's maintenance experts are pulling part of the fleet in this month. These trains, which have been running almost continually need more than just an overnight service.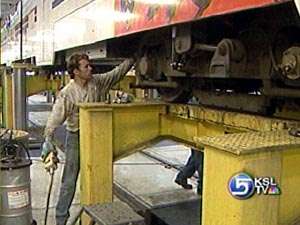 Jim Price, Manager, TRAX Vehicle Maintenance: "We've taken the month of July to target these activities to try and get them out of the way so our customers won't have to be bothered with it later on."
So, it may be a little inconvenient for commuters during this four week period, but better than if a train breaks down in the middle of a run.
Every three thousand miles or they we do some pretty simplistic service on our automobiles. But we really don't know what service, what a tune-up is all about until we've seen a major overhaul of a light rail train.
Lubricants are not only changed, they're sent out for analysis. Huge mechanisms, each with two pairs of wheels and weighing seven to nine thousand pounds are unbolted, tuned up, overhauled if necessary, even repainted. Worn wheels are literally cut in half, removed, and replaced with new ones. Trains are inspected from top to bottom-- electrical circuitry, back up systems, hundreds of controls, gear boxes, the list goes on.
We're pushing the envelope when our cars reach 150 to 200-thousand miles. But for these Seimen built trains.
Jim Price: "Easily over a million miles, easily. The life-cycle of a light rail vehicle is 30 years plus."
TRAX is putting more miles on its vehicles than many other transit systems because of the length and frequency of the runs and because UTA runs often with four car trains - to free up more seats for commuters.
×
Most recent Utah stories