Estimated read time: 3-4 minutes
This archived news story is available only for your personal, non-commercial use. Information in the story may be outdated or superseded by additional information. Reading or replaying the story in its archived form does not constitute a republication of the story.
Coco Warner ReportingAnother victim of the extreme heat. The concrete on I-15 is buckling, so if you use the 33rd South ramp, headed south, find another way home. The six-by-eight foot section buckled about 24 hours ago, and UDOT crews had to shut it down to dig it up, and then patch it.
The ramp is still closed to traffic, but UDOT crews expect to have the ramp re-opened by tomorrow morning at 6 a.m.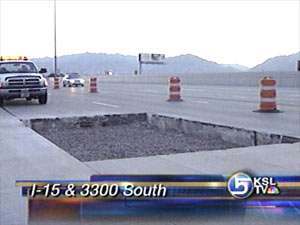 Each week day during the morning and afternoon commuter hours, between 10,000 and 15,000 vehicles use the ramp to get onto southbound I-15. But this is how the ramp was empty this morning, with a big, square, six-inch deep hole right in the main lane at the top of the ramp. For safety reasons, UDOT had to close it.
Nile Easton, UDOT Spokesman: "It's just the hot weather. When we get temperatures in the 100's, the concrete expands; no matter if it's new or old concrete it expands. Our big problem has been the warm nights. Usually we get the warm weather, and then it cools down at night and the concrete contracts back to where it was."
But that's not happening right now. Freeway concrete can buckle anywhere, but many times it's near a bridge, because there are more expansion joints there. The expansion joints fill up with debris and then the two sections don't have room to move, and that's why they buckle.
And they may keep buckling. UDOT road crews drive the system constantly and have spotted nearly a dozen other problem spots, but were able to fix them before major problems occurred. But whether it's I-15, I-80 or 215, statewide, as long as the temperatures stay this hot, buckling is a fact of life.
Nile Easton, UDOT Spokesman: "It's just Mother Nature. Just something we have to deal with living in a desert."
Rolayne Fairclough, AAA Utah: "If you can anticipate that the asphalt buckled on the road think about what's happening in your car, because your belts, your hoses and your tires are all so susceptible to the heat."
AAA Utah says there are easy things you can do to keep your car cool, like using a sun shade.
Rolayne Fairclough, AAA Utah: "Well, it can get up to 190 degrees and to put this in perspective, you're supposed to cook chicken to 175 degrees."
Some more advice for your vehicle in response to this record breaking heat-- park in the shade, set your air conditioner to regular or fresh air before switching to maximum cooling, and make sure your tires are properly inflated.
Rolayne Fairclough, AAA Utah: "The liquids in your car also suffer with the heat, so make sure that your coolants are right where they're supposed to be the proper 50-50 level and also that your oil is clean and that the levels are high."
AAA also recommends carrying water in your car in case of an emergency breakdown.
As far as the 3300 South ramp goes, UDOT added some other ingredients to the concrete, so it would set up faster -- about 18-hours, instead of several days. Again, this ramp should be open to traffic at 6 o'clock tomorrow morning.
×
Most recent Utah stories