Estimated read time: 2-3 minutes
This archived news story is available only for your personal, non-commercial use. Information in the story may be outdated or superseded by additional information. Reading or replaying the story in its archived form does not constitute a republication of the story.
Ed Yeates ReportingViral meningitis cases in Salt Lake have more than doubled from where they were last year at this time. And the Salt Lake Valley Health Department wants to know why.
Thirteen cases of viral meningitis have been confirmed in the Salt Lake County area over the past 19 days. Over the same period last year, there were only five cases.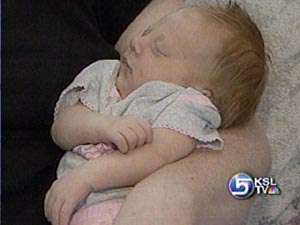 Greta Betts 14-day old daughter was released from Primary Children's Hospital two days ago. While her viral meningitis was never life threatening, her symptoms worried mom and dad.
Greta Betts, Rachel's Mom: "The fever is what really had me worried because with a baby this small that's pretty scary. It was mostly the fever that cued me that something is not right, I need to go to the doctor."
Unlike bacterial meningitis - which has similar symptoms and which killed two high school students last year - children and adults usually fully recover from viral meningitis in seven to ten days.
Dagmar Vitek, M.D., Medical Officer, Salt Lake Valley Health Department: "Most people actually don't even know that they get viral meningitis. Most people don't even get symptomatic."
So fever, headache, nausea, vomiting, a rash and a stiff neck - they can all be symptoms! Though viruses like the Enteroviruses that cause it are very common, very few actually get the meningitis or swelling at the base of the brain.
Even though the weather is hot these days, kids should not play in untreated ponds or streams where they could easily swallow the water. Avoid sharing eating or drinking utensils with friends or family who are sick, even though the symptoms may be mild. And wash, wash your hands.
Salt Lake Valley Health is not the only one reporting higher numbers. While Utah County usually averages only one case per month, it's seen six cases since the first of June.
×
Most recent Utah stories