Estimated read time: 2-3 minutes
This archived news story is available only for your personal, non-commercial use. Information in the story may be outdated or superseded by additional information. Reading or replaying the story in its archived form does not constitute a republication of the story.
SALT LAKE CITY -- The governor's office unveiled the Utah Health Exchange Wednesday. The exchange is a website to help Utahns choose their own health care plan.
"This effort really is putting Utah on the cutting edge and on the forefront of health care, health system reform," said Gov. Gary Herbert.
The Utah Health Exchange was created by House Bill 188 and signed into law by former Gov. Jon Huntsman in March. The website offers insurance options not only for individuals, but also for small businesses.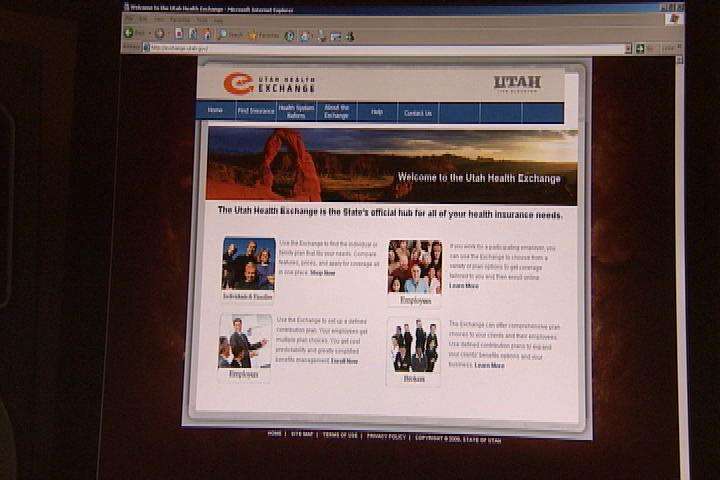 On the site, employers can contribute money toward their employee's health insurance premiums. The new approach will allow employees to use that money to "shop" for the health care plan that's right for them.

Julie Stout has already used eHealth to find insurance. She was working two jobs and wanted to start a private practice as a therapist.

When she left her jobs, Stout found herself without health insurance. She searched online and found eHealth.com and a plan that worked for her. She says having insurance has brought peace of mind.

"It means not having to worry about my house being at risk should I need to go and be hospitalized. I don't want to lose all the equity I've built up over the years, so it's security," Stout said.

Speaker of the House David Clark says a one-size-fits-all approach won't work for Utah.

The Utah Health Exchange is a web-based health insurance "marketplace" that serves as a single shopping point allowing consumers to evaluate their health insurance options and execute informed purchasing decisions. The service was launched by the Utah Governor's Office of Economic Development.

"We need to find Utah solutions that keep intact the good things that we have in our state and look to improve, especially when it comes to managing costs and allowing better access to everybody for health care," Clark said. The state partnered with [eHealth.com](http://www.ehealthinsurance.com/) to create the online resource. The vice-president of eHealth.com, Sam Gibbs, says he understands the state's approach.

"What the state is doing is connecting health insurance carriers with people that need health insurance. And I think that's one of the things the state has done, is really they've got the right goal," Gibbs said.

The Utah Health Exchange offers plans with most local insurance carriers. At Wednesday's press conference, three Utah companies enrolled: the Salt Lake Chamber of Commerce, First West Benefits Solutions and Klein Cabinets.

E-mail: aforester@ksl.com

×
Related links
Related stories
Most recent Utah stories