Estimated read time: 3-4 minutes
This archived news story is available only for your personal, non-commercial use. Information in the story may be outdated or superseded by additional information. Reading or replaying the story in its archived form does not constitute a republication of the story.
SALT LAKE CITY -- The Utah Highway Patrol says road debris is a constant concern for troopers. A recent crash on Interstate 15 in Bountiful is one among many that shows just how deadly and frustrating it can be when motorists do not secure their loads.
Most motorists have had close calls with rocks, tire treads, and maybe even furniture on the roadway. The state runs a campaign called "Litter Hurts," and Spero Fotes of Bountiful has the road rash and bruises to prove it. He has a black and blue injury that runs all the way up his back side.
Two weeks ago, shortly after he merged his motorcycle into I-15 traffic at 2600 South in Bountiful, he slammed into a 20-foot long, 6-inch diameter industrial hose.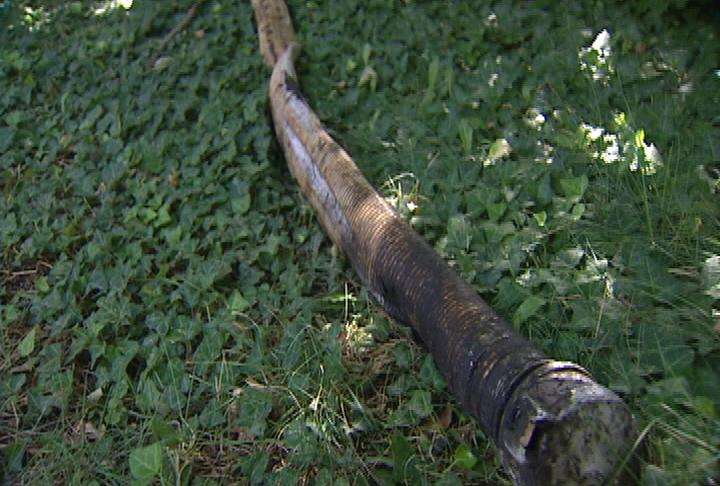 "It all happened so fast," Fotes said. "It threw me into a fishtail. It made me veer into the fast lane."

As he veered, he hit a truck and flew over his handlebars.

"I was near death. The lady in the truck that I hit swore that she ran me over," Fotes said.

That's the same woman who called 911.

Fotes will survive his injuries, but the crash damaged his high-performance motorcycle to the tune of several thousand dollars. The wheel rim is cracked, and the carbon fiber nose and other parts of the bike are broken.

Fotes carries only liability insurance, so he'll have to pay for all repairs.

**Facts about road litter**![](http://media.bonnint.net/slc/1243/124372/12437281.jpg)

- More than 25,000 automobile crashes are caused by litter annually on North America roads. There were two fatal crashes on Utah roads as a result of lost debris in 2008. - Motorists are required by Utah law to properly secure items in their vehicle. Utah passed legislation in 2008 increasing fines to up to $250 for littering and up to $500 for lost debris. - In a statewide survey, 84 percent of Utahns said while driving they have confronted lost items dropped on the road, and 46 percent of Utahns have experienced damage to their automobile because of falling debris from other vehicles. (Dan Jones & Associates, 2009) - Cleaning up litter and debris on Utah's highways costs taxpayers more than $2 million each year. - About 8,000 truckloads - each one-ton size - of litter are hauled to landfills in Utah annually. - According to a 2007 New York Times article, nearly 40 percent of roadside litter is made up of large items such as fuhttp://stage.bonnint.net/graphics/clear.gifrniture, appliances and yard equipment. *- UDOT*

His dad helped him retrieve the long hose that looks like something used in asphalt application. He tried to do some detective work and track down where the hose came from and traced a serial number on the hose coupling to Goodyear, but they told him it didn't help narrow down his search. Sgt. Keith Dockstader of the Utah Highway Patrol pulled a queen mattress off the interstate Monday. It's the kind of operation that risks his life, pulls troopers away from more important duties, and wastes the time of other motorists.

"The biggest issue is strapping it down well and using more than one strap," Dockstader said.

He says too many people will tie down a load with one strap and think that will do the job. When a vehicle reaches highway speeds, one strap will rarely do the job.

As for Fotes, he has raced in the past and taken a few spills. He is thankful his body armor did the job, and his scarred helmet should remind all riders to strap one on.

"I have wrecked in cheap helmets, and I will never buy a cheap helmet, and this is why," Fotes said.

He hopes for some resolution if someone can identify that hose. Unfortunately, the Highway Patrol says they rarely are able to track down the offenders who lose their loads.

E-mail: jboal@ksl.com

×
Related links
Related stories
Most recent Utah stories