Estimated read time: 2-3 minutes

This archived news story is available only for your personal, non-commercial use. Information in the story may be outdated or superseded by additional information. Reading or replaying the story in its archived form does not constitute a republication of the story.

SALT LAKE CITY -- Car sharing is the new way to get around town. The "U Car Share" program is new to Utah. U-Haul partnered with the Utah Transit Authority and Salt Lake City to create the U Car share program.

Salt Lake City Mayor Ralph Becker says, "It's another great alternative really for people to be able to get around."

Twelve hybrid cars can be shared through U Car Share; a program started by U-Haul, but the first of its kind in Utah.

"Nobody has this type, where you can actually use it for a couple hours, go to the grocery store, pick up what you need, bring it back and you're done," says U-Haul Marketing President Mike Kemp.

**What is... U Car Share?** ![](http://media.bonnint.net/slc/1362/136282/13628264.jpg)

• Membership required • Must be 18 years old with at least two years driving experience • 24/7 access to cars • Hourly rate starting at $4.95/hour plus $0.59/mile • Program pays for fuel, insurance and maintenance • Reservations made online at [ucarshare.com](https://www.ucarshare.com/secure/SearchResults.aspx)

The goal of U Car Share is to give people an alternative to owning second and third cars, and to increase the use of public transit.

"You may have an appointment that isn't right downtown, isn't readily accessible by public transit and you rent one of these cars and for two hours you take care of business and you're done," says UTA General Manager John Inglish.

Anyone can reserve a car online. First, you have to sign up and pay a one-time fee of $25 for a membership card. The card is how you can get into the car. You place the card on the scanner, and the door unlocks. The key is in the glove box.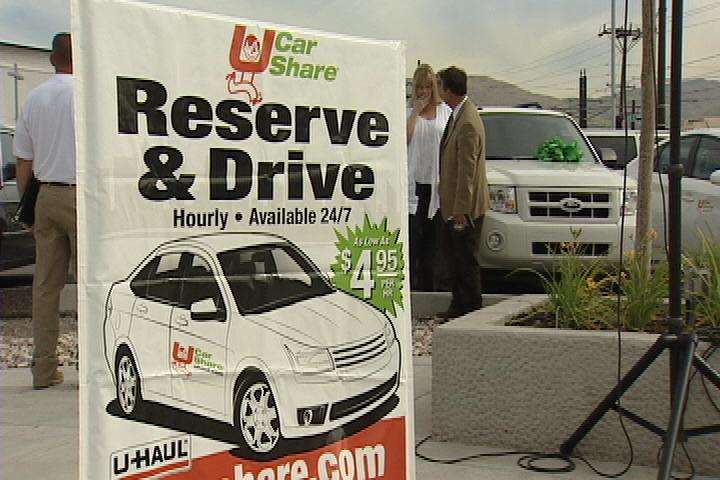 Renting a car is cheap. For as little as $4.95 an hour you can drive around town, gas and insurance included!

UTA says the program is environmentally-friendly; every U Car Share vehicle on the road can replace up to 15 personally owned cars. That means fewer emissions.

**FREE MEMBERSHIP**

Get a free membership ($25 value) at [ucarshare.com](https://www.ucarshare.com/secure/SignIn.aspx?join=true) until October 30, 2009. Use the promotion code **SLC82009**.

"They're very green, very sustainable vehicles. They're easy cars to drive," says Inglish.

There are twelve cars available for sharing at various UTA stations. U-Haul says they hope to add more by the end of the year.

E-Mail: aforester@ksl.com

×
Related links
Most recent Utah stories