Estimated read time: 2-3 minutes
This archived news story is available only for your personal, non-commercial use. Information in the story may be outdated or superseded by additional information. Reading or replaying the story in its archived form does not constitute a republication of the story.
PROVO -- The burger war is heating up again between a large chain in California and a new Utah-based hamburger restaurant many people believe is a knockoff. Chadder's is expanding at the same time that In-N-Out Burger is bringing several restaurants to Utah.
Round one began when Chadder's opened a restaurant in American Fork; In-N-Out sued in a trademark infringement case, and Chadder's changed their color scheme. Now round two in the burger war is closer to being fought, this time at the cash register.
Chadder's now has a new location in Provo; construction of the first In-N-Out along the Wasatch Front has now begun on University Parkway in Orem. Soon burger-hungry customers will have a choice.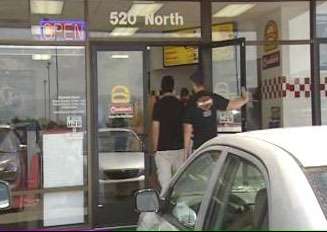 "I think it's a toss-up," said Chadder's customer Derek Rentz. "We were just down in California, and I think the food is roughly the same, pretty good."
But other Chadder's regulars wonder what will happen when In-N-Out opens for business.
"I think In-N-Out is coming here just to teach these guys a lesson, possibly, but I may be wrong," Chadder's customer Glenn Jakins said.
Chadder's customer Darin Davis told us, "Chadder's is going to struggle, at least at first. Chadder's will struggle. They might hang in there, but everyone will go to In-N-Out."
Chadder's appears ready for the battle, with three restaurants in Utah and a billboard announcing another one coming soon to Orem.
On Friday, KSL News met a group of guys who were going in to try the new Chadder's location in Provo as first-time customers. They say it's probably not going to come down to the brand, but rather location, how long the line is, and the price.
"I'm full, so that's a good sign," one of the first-timer customers told us. "It was good. I got the strawberry shake, and I think it's at least as good, if not a little better than In-N-Out."
Jankins believes the battle between Chadder's and In-N-Out will actually be good for everyone who loves a great burger.
"We're just glad we've got so many good burger places," he said.
Of course, everyone has their favorite burger place. Many of them probably weren't even mentioned in our story.
E-mail: spenrod@ksl.com
×
Most recent Utah stories