Estimated read time: 3-4 minutes
This archived news story is available only for your personal, non-commercial use. Information in the story may be outdated or superseded by additional information. Reading or replaying the story in its archived form does not constitute a republication of the story.
TOOELE COUNTY -- Firefighters from across the country arrived in Tooele County to help put out the Big Pole Fire, which has been burning since Wednesday night.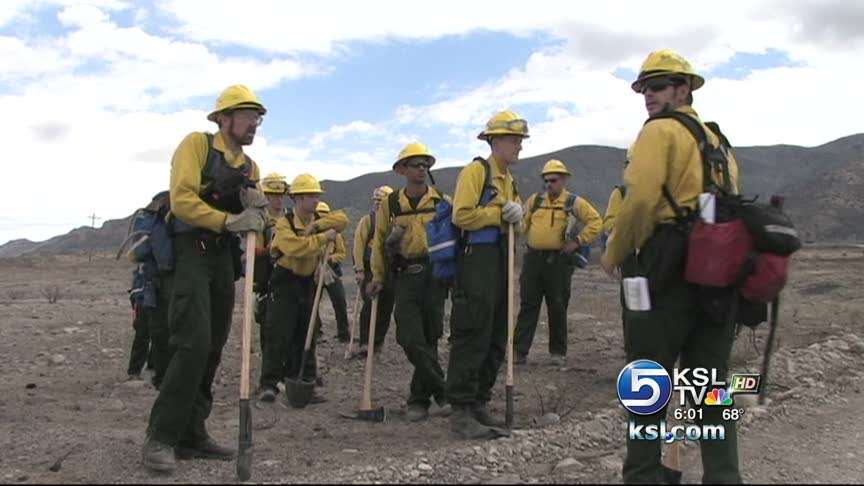 The fire has charred more than 45,000 acres, destroyed one home and 10 outbuildings, and is about 15 percent contained. That makes it a high priority for the Bureau of Land Management, and now a type 2 fire team is in place to fight it.
Wildfires are ranked from one to five; five denotes the smallest fire a local fire department can handle. A type 2 means a lot more resources from across the country are brought in to fight a bigger fire. That team arrived in Utah Friday night and began operations Saturday morning.
One firefighter, Tyler Torres, says he can't think of anywhere he'd rather be, except maybe Alaska. Torres is part of a firefighting crew from Delaware that was on its way to Alaska when the Big Pole Fire in Tooele County started getting out of control. So his team was sent here, instead.
Saturday firefighters were looking for hot spots where the fire already burned through Skull Valley. (To see a map of the fire, CLICK HERE) Fortunately, a lot of cloud cover and cooler temperatures helped the firefighting effort.
Brenyn Lohmoelder of the Bureau of Land Management said, "With these lower temperatures and higher humidities, we're not seeing as much active flame."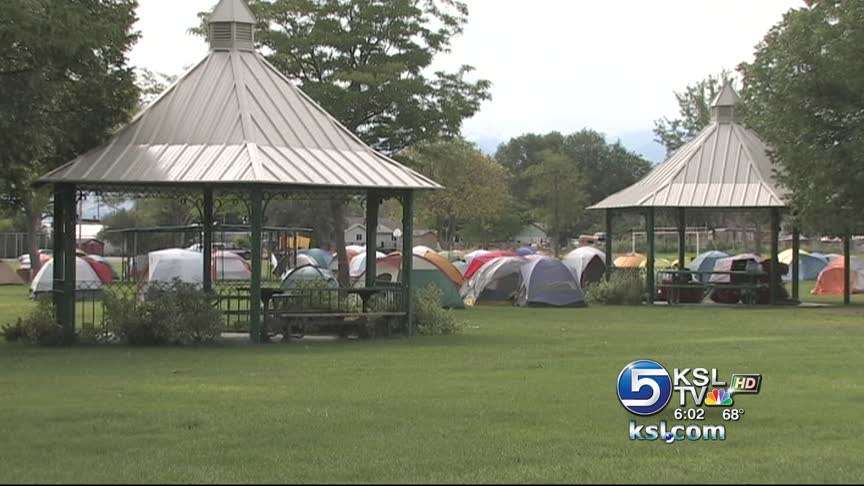 Firefighters say if this weather - including the cloud cover - continues, they think they can knock down the fire within a few days. But they say anything can happen if the wind changes.
"Just because you're not seeing much doesn't mean it's still not dangerous," Lohmoelder said.
That's why more crews from across the country were brought to this fire and now are based at Grantsville High School.
Fire Information Officer Terry Krasko explained, "We've got some from Ohio, Delaware, Pennsylvania, West Virginia, and from Idaho and Nevada."
That means more crews fighting this fire, hoping to put it out before it gets out of control. "It's tiring. It's hard work," Torres said, "but it's worth it."
Driven by high winds and fueled by cheatgrass, the fire exploded in size after being reported as a 10-acre blaze Thursday morning. It has prompted the closure of the Uinta-Wasatch-Cache National Forest in the Stansbury range.
Weather helps with other fires
Big Pole is the largest of a rash of lightning-caused wildfires that have scorched more than 100 square miles of Utah. Fire officials said 17 active fires have charred 73,795 acres across Utah.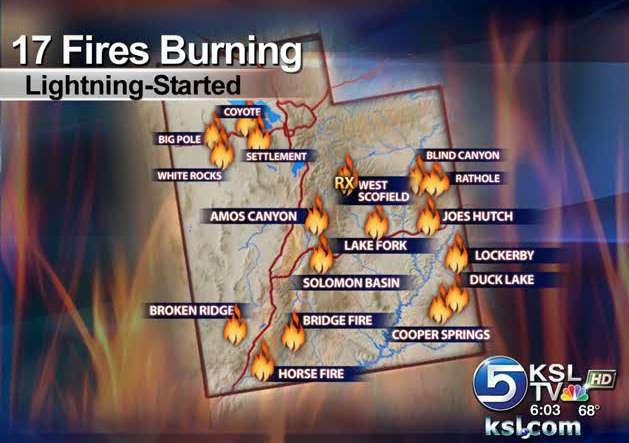 The cooler, moist weather also helped crews battling the 147-acre Settlement Fire in Tooele County. Fire crews declared it contained Saturday evening. All roads and recreational trails, including the Settlement Canyon Road, will reopen Sunday at 9 a.m.
The 10,600-acre White Rocks fire 24 miles southwest of Grantsville was 70 percent contained, while the 4,460-acre Broken Ridge fire near Lund was 10 percent contained.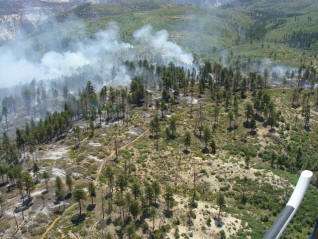 To the south, the 2,110-acre Horse fire in Zion National Park was 50 percent contained, with full containment expected Friday. The lightning-caused blaze began July 7.
------
Story compiled with information from Alex Cabrero and The Associated Press.
(Copyright 2009 by The Associated Press. All Rights Reserved.)
×
Photos
Related links
Related stories
Most recent Utah stories