Estimated read time: 2-3 minutes
This archived news story is available only for your personal, non-commercial use. Information in the story may be outdated or superseded by additional information. Reading or replaying the story in its archived form does not constitute a republication of the story.
LAYTON -- Kids in Layton will soon be able to shut down the Xbox and the computer, and go play video games at the park.
The first interactive, electronic playground west of the Mississippi River will open in Utah later this month.
The finishing touches are being completed now at 325 N. 3200 West in Layton. The structures look much like any other playground, except maybe a bit more space age. A metal climbing wall, spinning toy and balancing machine rise from the mulch. What's different about them is what's inside.
"Each one of these structures has three games attached to it, and it's all controlled through a computer," says Brock Hill, Layton City Parks Superintendent.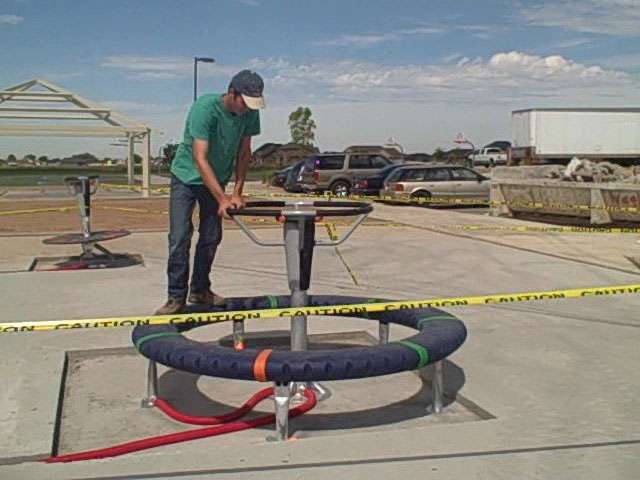 The games include a kind of electronic version of capture the flag and a maze where the user has to balance carefully to get a dot of light into the right spot on a screen; making this incarnation of video games more like Dance, Dance Revolution than Super Mario Brothers.
"That's what it's meant to do," explains Hill. "It's meant to get the kids out, outside, get them active and playing without them really realizing that, 'Hey, I'm actually exercising here.'"
Most of the games can be enjoyed alone, in teams or one-on-one. Hill says it's not your everyday tot-lot.
"Really, it's kind of geared and it targets an older-aged group of kids. You know, anywhere from the junior high age, from 14 to probably 16 or 17."
It sits next to the new Legacy Junior High School, also opening later this month, as part of a three-acre park that has not yet been named. There are more traditional activities available, such as tennis, baseball and basketball, for the non-geeks who want to visit the park.
The electronic playground equipment, from a company called Kompan in Denmark, is designed to withstand hard playing and extreme weather conditions. Hill said one video on the company's website showed the same kind of equipment in 4 feet of snow - which was just brushed aside, rendering the playground ready for kids again.
E-mail: bbruce@ksl.com
×
Most recent Utah stories