Estimated read time: 3-4 minutes
This archived news story is available only for your personal, non-commercial use. Information in the story may be outdated or superseded by additional information. Reading or replaying the story in its archived form does not constitute a republication of the story.
PROVO -- BYU opens up fall football camp a week from Saturday, getting ready for the opener with Oklahoma in just 34 days.
Harvey Unga enters his junior season as one of the best running backs in Cougar history, but this summer, he contracted the swine flu.
This week, Rod Zundel caught up with Unga to play a little catch up and to find out about his health.
"Well, Harvey you look healthy."
"I feel healthy, I feel good."
"So, what happened?"
"Well, you know, it's kind of a mystery thing for me. Just one night came home, wasn't feeling too good and next thing I knew I found myself talking to the doctors about the swine flu."
"Do they know where you picked it up?"
"No. They didn't get to trace it or anything and I didn't end up taking any trips to Mexico or nothing like that so."
"Were you concerned that 'Man, I've heard about this and is my football game in jeopardy?'"
"No, to be honest. It didn't bother me at all. I wasn't too worried about that, and it didn't concern me too much."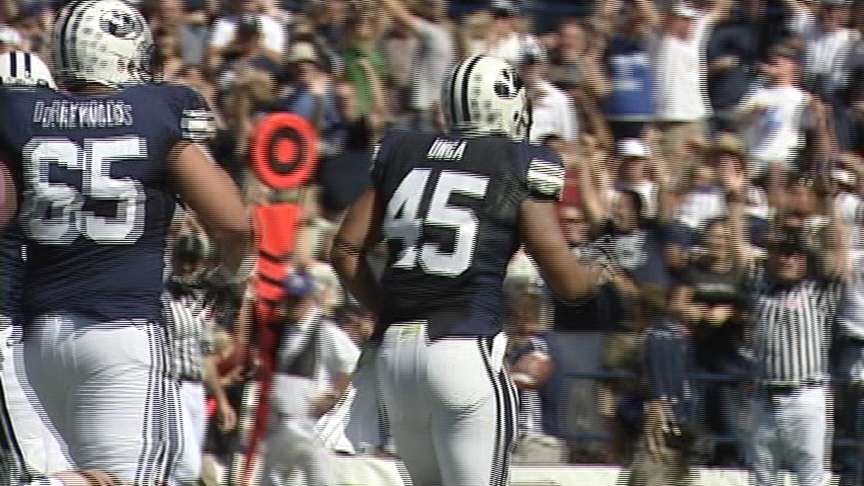 "So what'd it feel like? "You know, it's, I can't explain it. It's the flu times a million while some guy is slamming a sledgehammer on your back and your head and your whole body, so probably one of the worst things I've been through. I'd rather go through five months of fall camp than go through a week of the swine flu again."
"I feel good. I actually got a lot stronger since then. I don't know how."
"I lost about 20 pounds when I got it, but I gained 15 back already."
"So, does that mean you're five pounds faster?"
"I feel five pounds faster."
"So Harvey Unga is healthy and ready to start fall camp, and he only needs 854 yards to pass Curtis Brown as BYU's all-time leading rusher."
"Yeah, well when you got a really good line things happen. So I'm praying, you know, just to win this season, and that's all that matters to me."
"It'd be an amazing accolade. I'd be honored to have that, but at the same time, like I said, it's one of the things that's kind of at the bottom of the board, as far as I'm concerned. I'm just, I'm a big sore loser, and to me winning comes first and then I think everything else will fall into place."
"Do you ever talk to Curtis Brown?"
"I do."
"So, what's Curtis saying about you going to break his record?"
"He, you know what, it's kind of funny. We joke about that. He told me he gave coach and I and Coach Reynolds a call to tell them to throw the ball a lot this season. He kind of wants to hold onto it for a while. He was joking, saying Jamal had it for a couple years and he wants the same thing."
"And what'd you tell him?"
"I told him I'd give him one more year. He can hold on for one more year. I got two more left, so I'm going to pray for that."
×
Most recent Sports stories