Estimated read time: 6-7 minutes
This archived news story is available only for your personal, non-commercial use. Information in the story may be outdated or superseded by additional information. Reading or replaying the story in its archived form does not constitute a republication of the story.
I was the guest on a Seattle sports talk radio station yesterday, asked to discuss the BYU Cougars as the hosts continued a rundown of the teams expected to be in the Top 25 when the season begins.
Much of our conversation focused on two quarterbacks: BYU's senior signal-caller Max Hall, and Skyline (WA) High School's senior pivot, the Cougar-to-be Jake Heaps.
Coming off his MVP performance at the Elie 11 Camp, Heaps is the star on the horizon, while Hall is the current star of the show in the MWC, voted last week as the preseason Offensive Player of the Year.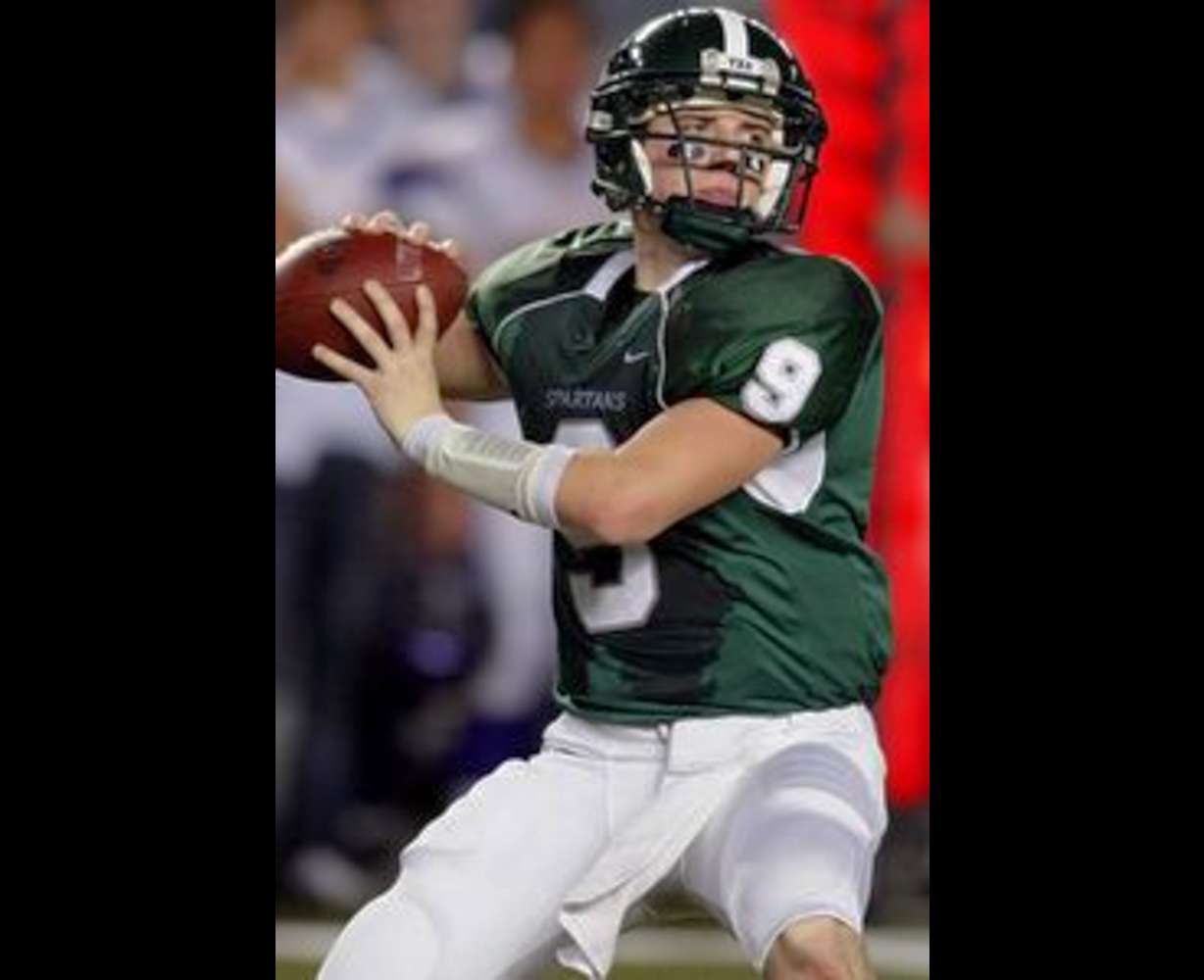 If Hall has the kind of senior season most expect of him, and if Heaps has the kind of senior season most expect of him, the "Quarterback Factory" production line should continue to rack up yards at a prolific pace--capping the first decade of the new millennium and opening the next decade in much the same way the football flew in the 70s, 80s and 90s.
*******
It's often taken for granted, yet remarkable that BYU has marched quarterback after quarterback into an offense that has developed and evolved, yet has always retained the high-octane passing element for which the Cougars have been known for more than 30 years.
While BYU began to throw the ball around with Virgil Carter in the mid-60s, and later with Gary Sheide in the early 70s, it was starting with Gifford Nielsen's only full season in 1976 that the numbers really started to gain attention. That season, BYU threw for 3,386 yards--leading the NCAA in passing for the first time under Lavell Edwards.
From 1976 through 2008, BYU has thrown for 124,129 yards--an average of 3,761 yards per season.
Only four times in 33 seasons have the Cougars thrown for fewer than 3,000 yards (1978, 1986, 1997, and 2003).
In 33 seasons of football, BYU's lowest passing yardage total: 2,500 yards in 1997. Consider that last season alone, 46 of 119 teams (39% of all teams) threw for fewer than 2,500 yards. And that is BYU's "low water mark"... since 1976.
Back to BYU's 33-year season average of 3,761 yards for a moment. Last season, only 11 of 119 teams (9% of all teams) passed for as many yards as BYU's average output since 1976.
*******
Consider further that of the top ten quarterbacks in BYU's career passing yardage tally, #9 (Wilson) played in the 70s. #3 (McMahon) played in the 70s and 80s. #4 (Bosco), and #8 (Young) played in the 80s. #1 (Detmer) played in the 80s and 90s. #5 (Walsh), #6 (Feterik) and #10 (Sarkisian) played in the 90s. #2 (Beck) and #7 (Hall) have played in the 00s. That is balance, spread over four separate decades.
*******
One can argue that of the 19 BYU quarterbacks to lead the team in passing for at least a single season (since 1976), 12 have been either "exceptional" or "great," over the course of their BYU careers. Of the remaining seven quarterbacks, six were split into two groups of three who happened to play during BYU's only two "hiccup" periods over a 33-year span.
Steve Lindsley, Bob Jensen and Sean Covey were the primary starters from 1986 through 1988, and threw for a combined 46 TDs and 55 ints. While BYU's numbers and win totals were more than respectable, BYU did not win any conference championships during that period.
From 2000 through 2003, BYU had four primary starters, and while Brandon Doman was the "exceptional" exception in 2001's flash-in-the-pan, Charlie Peterson, Brett Engemann and Matt Berry otherwise struggled, combining for 28 TDs and 38 ints (I have a soft spot for Berry, who was a talented victim of both injury and a QB carousel during his junior and senior seasons). With the exception of the Doman-led 2001 season, BYU went 15-21 in 2000 and 2002-03, finishing 3rd, 7th and 4th in league play.
The remaining BYU QB not to place in the "Dynamite Dozen" is Ryan Hancock, but he is a special case: a baseball player and 3rd string quarterback who ended up starting as the QBs dropped like flies in an injury-plagued 1992 season--a season in which BYU still tied for the conference crown.
*******
So, there you have it: 33 years of football, and only seven seasons in which you could say one of BYU's alltime "exceptional" or "great" quarterbacks was not in charge.
This is not meant to begin a debate over who was or was not "exceptional" or "great," but all of the QBs in my "Dynamite Dozen" won at least one conference championship and/or are among BYU's top ten in passing yards and passing TDs. And that's good enough for me.
*******
Which brings us back to Max Hall.
He comes into this season on pace to finish his BYU career behind only Ty Detmer in passing yards, total offense and passing TDs. He is also on pace to pass John Beck as the MWC's alltime leading passing yardage and passing touchdown leader; truly Hall looks to be another "great" BYU QB set to take his place in the Cougar passing pantheon.
Certainly, there is more to team success than passing numbers, but BYU's passing game has been integral to its decades-long run of success, and as mentioned, along with the numbers have come championships.
There is every indication that Jake Heaps has what it takes to add his name to the BYU QB "Honor Roll," but if he does it, don't take it for granted. What BYU has done and is doing at the quarterback position is really something special.
*******
Okay, now to the the second "Camp Cougar Countdown Trivia" question.
First up, though, the answer to yesterday's brain-bender.
I asked you to name the three players on the cover of the 1984 BYU Football Media Guide.
The answer: Lee Johnson, Leon White and Trevor Matich.
--
Question #2:
Of which conference was Pittsburgh a member when BYU defeated the #3-ranked Panthers to open the 1984 season?
--
The answer and question #3 tomorrow...
*******
Hoops note:
Former BYU Cougar Rafael Araujo will not play for Brazil at the upcoming Tournament of the Americas. He has Achilles tendinitis and has been ruled out of the World Championship qualifying tourney.
Former Cougar Luiz Lemes had been asked to assist the team as an "invited" player for practices only, but he is now off the roster list, and the number of players battling for 12 final roster spots is now down to 18.
Current Cougar Jonathan Tavernari is one of the 18 players practicing with the national team, and the number of shooting guards (his position with Brazil) now on the national team roster is down to four.
Workouts continue this week in Sao Paulo, with a four-team tune-up tourney in Rio de Janeiro scheduled to begin on August 7th. A previously-scheduled tourney in Argentina is no longer on the agenda, due to swine flu concerns in that country.
*******
×
Most recent Sports stories