Estimated read time: 2-3 minutes
This archived news story is available only for your personal, non-commercial use. Information in the story may be outdated or superseded by additional information. Reading or replaying the story in its archived form does not constitute a republication of the story.
The Mountain West Conference released its preseason honors and predictions moments ago here at the Green Valley Ranch Resort in Las Vegas, and the TCU Horned Frogs are picked to win the league's football championship, capturing 15 of 24 first-place votes.
*******
Here is the predicted order of finish (first-place votes in parentheses):
1. TCU (15)
2. BYU (6)
3. Utah (3)
4. Air Force
5. UNLV
6. Colorado State
7. New Mexico
8. San Diego State
9. Wyoming
*******
Among individual honorees, BYU's Max Hall is the Preseason Offensive Player of the Year, while TCU's Jerry Hughes takes Defensive POY honors.
TCU KR/PR Jeremy Kerley is named Special Teams Player of the year, and TCU RB Ed Wesley was named Freshman of the Year.
*******
Since TCU joined the league in 2005, this is the third time (in five appearances in the poll) that the Frogs have been picked to win the conference crown. In 2006, TCU was picked first and finished second; in 2007, TCU was picked first and finished 5th.
*******
Since the league inception in 1999, the preseason pick to win the title has gone on to win the championship only 30% of the time:
1999: BYU (finished t-1st)
2000: Utah (finished t-5th)
2001: Colorado State (2nd)
2002: Colorado State (1st)
2003: Colorado State (3rd)
2004: Utah (1st)
2005: Utah (t-4th)
2006: TCU (2nd)
2007: TCU (5th)
2008: BYU (3rd)
*******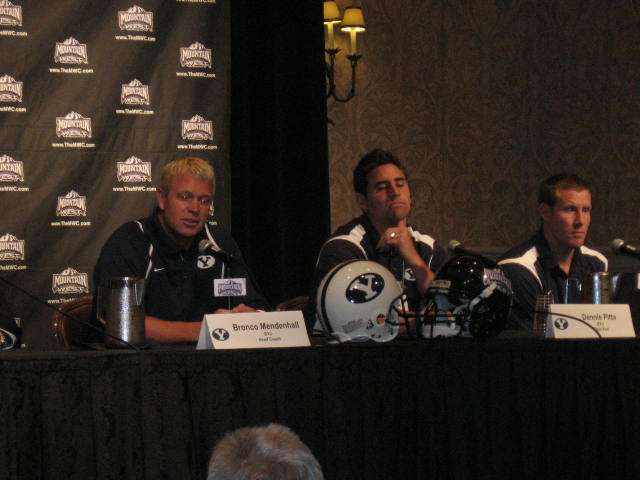 Individually, BYU placed five players on the Preseason all-MWC Team:
QB Max Hall
RB Harvey Unga
TE Dennis Pitta
DL Jan Jorgensen
PK Mitch Payne
*******
TCU led the league with seven all-conference selections, while Utah tied BYU with five honorees.
TCU--7
BYU--5
Utah--5
UNLV--2
Air Force--2
Colorado State--2
Wyoming--1
New Mexico--1
San Diego State--1
*note: there are 12 players on the all-MWC Offense (three WR), 11 on Defense, and three on Special Teams, for a total of 26 selections. 21 of the 23 Offense/Defense picks are seniors.
*******
Just got word that the MWC Board of Directors has extended Commissioner Craig Thompson's contract through June 30, 2012. Thompson remains the MWC's first and only Commissioner, having assumed his post on October 15th, 1998.
*******
As you will note, podium press conference audio can be heard by clicking on the respective audio links in the "Cougar Cuts" box to the upper right.
*******
×
Most recent Sports stories