Estimated read time: 2-3 minutes
This archived news story is available only for your personal, non-commercial use. Information in the story may be outdated or superseded by additional information. Reading or replaying the story in its archived form does not constitute a republication of the story.
SALT LAKE CITY -- Dozens of people gathered on the sidewalk outside downtown Temple Square Sunday morning to protest an incident involving a gay couple there last week.
The "kiss-in" started with couples and grew to a crowd of about 75 people. Rally participants acknowledged the Main Street Plaza is private property, but feel security guards with The Church of Jesus Christ of Latter-day Saints were heavy-handed with a gay couple that hugged and kissed there Thursday evening. Salt Lake police eventually issued the couple a citation.
Chris Lemon participated in the "kiss-in". "For members of a private security institution to throw people on the ground and handcuff them for an act of simple affection as a kiss on the cheek is deplorable," he said.
Kim Farah, a spokeswoman for the Church, says that everyone is asked to follow certain guidelines on private property.
One of the rally organizers, Deeda Seed, is a former Salt Lake City councilwoman who was against the sale of the property to the Church years ago.
After taking pictures, the demonstrators held hands and walked around the plaza. Neko Carrillo brought her children.
"We have tons of gay and lesbian friends and transgender and we just really want to support them," she said.
Salt Lake City Councilman Luke Garrott said, "There's a lot of nationwide fallout against Prop 8, as well as local issues. The Main Street issue and the access to Main Street is still an issue here in Salt Lake City."
Farah says the faith welcomes millions of visitors every year to Church properties, but asks that they follow certain guidelines which include no public demonstrations.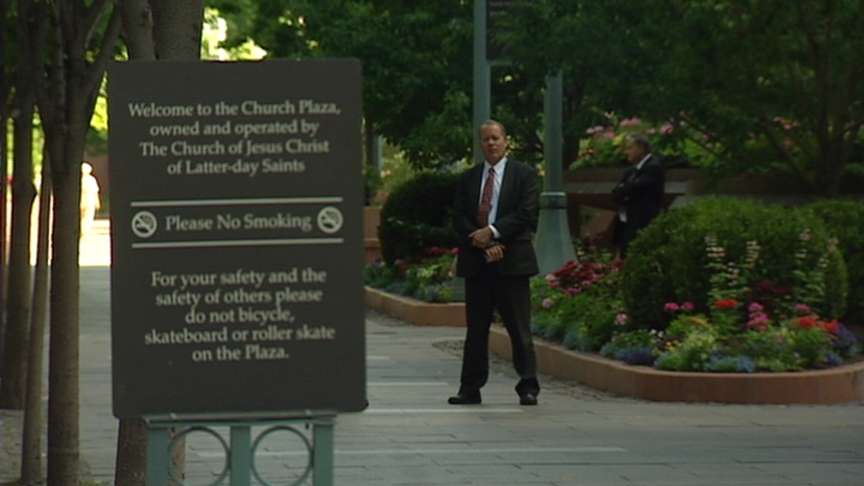 "The people who came today to the plaza were asked repeatedly to comply with our guidelines of not protesting on private property," she said. "They were asked very politely and respectfully to leave and when they did not leave, Salt Lake police were called."
A police officer spoke to a few individuals and then told the crowd that he and other officers were there to simply keep the peace.
Rally organizers hope the demonstration will bring about a meeting with Church leaders.
E-mail: cmikita@ksl.com
×
Related stories
Most recent Utah stories