Estimated read time: 2-3 minutes
This archived news story is available only for your personal, non-commercial use. Information in the story may be outdated or superseded by additional information. Reading or replaying the story in its archived form does not constitute a republication of the story.
SALT LAKE CITY -- A peregrine falcon that hatched this past May on the Joseph Smith Memorial buildings is learning to fly, and he's had a few crash landings.
Two falcons actually hatched in late-May. It's the older one, a male, that flew the nest for the first time Monday. On Tuesday, he was at it again, and KSL caught one of his quick flights on camera.
Right in the middle of an interview, the eldest peregrine falcon took off.
"He flew up and landed on top of the building," Temple Square visitor Nills Hoffman said. "It was nice. It was amazing to see him in flight."
The bird attracted quite a crowd during his quick flight. Even a couple who were just married took a moment to congratulate the little guy.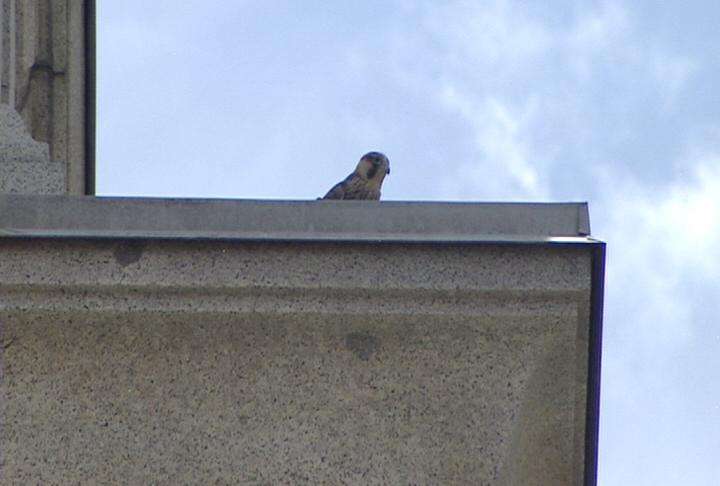 "He gets to share his special day with us," groom Kyle Hunter said.
Every year, Bob Walters, with the Utah Division of Wildlife Resources, watches the baby falcons that live atop the Joseph Smith Memorial Building.
"He's been over to the Conference Center and near the Church Office Building," Walters said of the little falcon.
He makes sure his feathered friends stay safe learning to fly in this urban jungle. So far, only the oldest male has flown the nest; the younger, likely female falcon, isn't quite ready.
But the little female probably watched Monday as her older brother tried to fly back to the nest, didn't make it and hit a wall, landing in a flower bed. Walters was there to safely pick the bird up and put it back on top of a building for another try.
Walters says it takes a falcon anywhere from 10 to 14 days to learn how to fly confidently; that's how long he and volunteers will be out tracking this male. As for the younger sister, they expect a couple more days for her to fly the coup, then they'll track her for about two weeks too.
If you'd like to watch the birds live on your computer, CLICK HERE.
E-mail: abutterfield@ksl.com
×
Related links
Related stories
Most recent Utah stories