Estimated read time: 2-3 minutes
This archived news story is available only for your personal, non-commercial use. Information in the story may be outdated or superseded by additional information. Reading or replaying the story in its archived form does not constitute a republication of the story.
SALT LAKE CITY -- The Utah Foster Care Foundation is working to fill a big void in the number of Native American foster families, one that sometimes forces kids to be bounced around from family to family.
Federal law requires that Native American children be placed with Native American foster families, but often that's an impossible task. There are eight times more kids in the Utah system than there are qualified families.
Darrell Sheperd has four kids, all adopted. As a foster parent, he and his wife are constantly taking kids in. "There are times where I've gotten three or four calls to take sibling groups of two or three kids at a time," he said.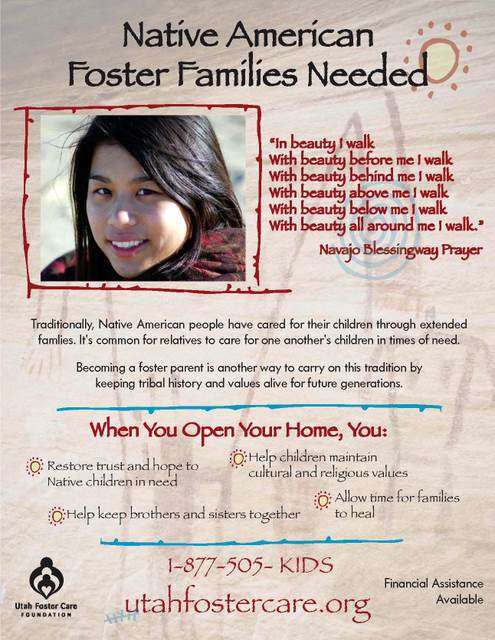 The reason Sheperd is so in demand is that he's Navajo, and the Indian Child Welfare Act requires Native American children be placed with Native American families.

"We have our ways, and if we can't teach these kids our ways, who's going to teach them?" Sheperd said.

But it's a tall order. At any given time, there are 170 Native American children in foster care in Utah. There are only 20 Native American foster families.

"Obviously, we need more Native American families to provide that culturally sensitive placements," said Kelsey Lewis, director of recruitment for the Utah Foster Care Foundation.

When a Native American family can't be found, kids are placed with other ethnicities. That doesn't always work out.

**"Honoring our Native Elders"**

May 30, 2009, 4-8pm Indian Walk-in Center 120 West 1300 South Salt Lake City, UT 84115 *Free admission*

"If the tribe asserts jurisdiction later and doesn't agree the child is in a placement that meets ICWA standards, that creates a disruption for the child," Lewis said. The Utah Foster Care Foundation is co-hosting an "Honoring our Native Elder Night" Saturday. It's a celebration of Native American culture and hopefully a chance to recruit new foster families.

Sheperd will be the featured speaker, sharing his own experiences. "It's always difficult at first, but great in the end," he said.

The event is being held at the Indian Walk-in Center in Salt Lake starting at 4 p.m.

×
Related links
Most recent Utah stories