Estimated read time: 3-4 minutes
This archived news story is available only for your personal, non-commercial use. Information in the story may be outdated or superseded by additional information. Reading or replaying the story in its archived form does not constitute a republication of the story.
SALT LAKE CITY -- Salt Lake City police are asking motorists and bicycle riders to be more watchful after two riders were hit by cars Tuesday morning, and a third bicyclist was injured while rushing to work.
The first accident happened on 400 South and 200 East just after 7 a.m. Police say the driver was eastbound on a green light when the 51-year-old bicyclist crossed against the red signal, right into eastbound traffic.
Lt. Craig Gleason, with the Salt Lake City Police Department, said, "She said she just saw a little shadow and felt some impact, and it wasn't severe enough that she went 'My God, I've hit something.' She kind of just went, 'What was that?'"
Police say the bicyclist drove right into the front of the car, smacking his head on the windshield before going over the hood of the car.
He was transported to the hospital unconscious with severe head trauma. Police also say he was not wearing a helmet.
Another bicyclist was hit by a car at 1000 East and 100 South around 7:30 a.m. Again, the driver was facing east into the sunlight, but this time the driver made a left-hand turn just as the 57-year-old bicyclist was traveling through the intersection.
Salt Lake City police officer Kim Herburg said, "She didn't see the bike rider and turned in front of him, and he ended up colliding with the front of the car."
Bruce Pollard witnessed the accident. He said, "He got thrown on the ground, and it looked like to me that he had a broken leg, but he got up and walked away from the incident."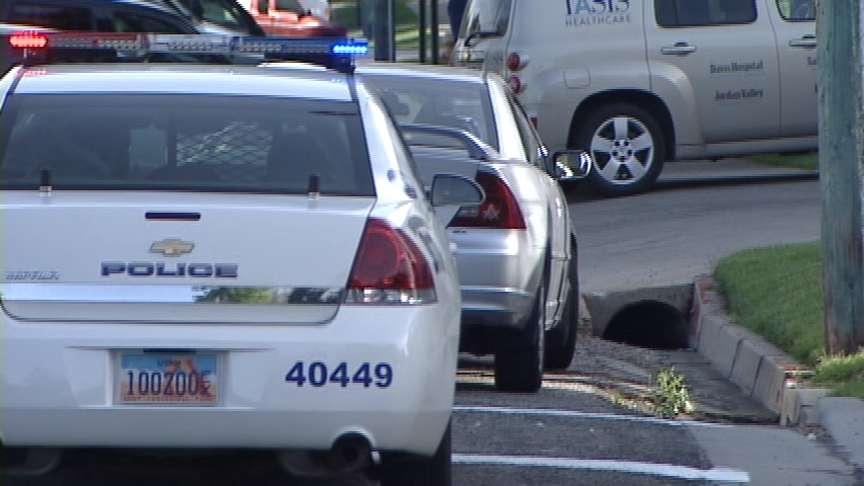 Because the crash happened right in front of Salt Lake Regional Hospital, the bicyclist ended up walking into the ER on his own.
Police say he did suffer some minor injuries, but because he was wearing a helmet, it didn't appear that he suffered any head trauma.
The driver was cited for failure to yield.
A little later in the morning another cyclist crashed while he was rushing to work on 400 South near Main Street.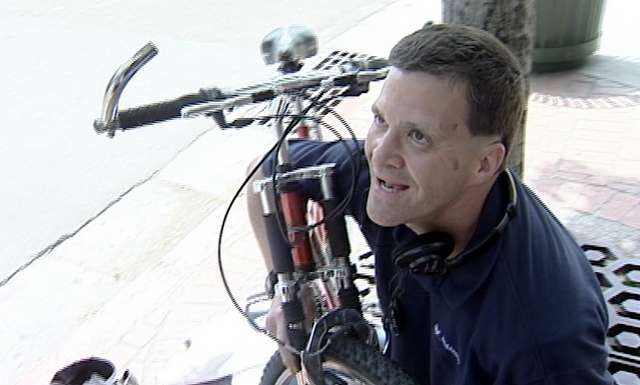 Cyclist Clark Porter said, "I made sure there were no cars coming at least, but next thing I know, the wheel comes off completely and my face hits the pavement."
He wasn't transported and didn't have serious head trauma, even though he wasn't wearing a helmet.
"I think I'm going to be wearing one. I know I'm going to be wearing one from now on," he said.
Officers say it's important for everyone on the road to watch where they're going.
Salt Lake City police spokeswoman Robyn Snyder said, "I don't know if people just forget how to watch out for each other or what, but this is a reminder that we all need to remember you yield to pedestrians, and also as a pedestrian or a bicyclist, you need to make sure you're not crossing on that red light."
Police say each year as it gets warmer outside, they tend to see a spike in these types of crashes.
Jonathan Morrison, the owner of the Salt Lake City Bicycle Collective, says everyone needs to share the road and stop blaming one side or the other. He said, "There's no question that motorists break the law. There's no question that cyclists break the law. So it's going to be an educational effort on behalf of the police department to enforce those laws."
Morrison says there are more new riders this year because they're trying to cut costs. He believes cyclists need to be proactive in getting trained before taking to busy streets.
Morrison teaches road safety in his classes, telling riders they need to obey the same laws as when they drive cars. Those include staying off the sidewalk, traveling in the same direction as traffic and using hand signals.
------
Story compiled with contributions from Shara Park, Randall Jeppesen and Nicole Gonzales.
×
Related links
Most recent Utah stories