Estimated read time: 3-4 minutes
This archived news story is available only for your personal, non-commercial use. Information in the story may be outdated or superseded by additional information. Reading or replaying the story in its archived form does not constitute a republication of the story.
SALT LAKE CITY -- Chrysler told a bankruptcy court it plans to eliminate 789 of its dealers, 10 of which are in Utah, as part of its restructuring process. The company calls it a difficult, but necessary decision to revoke the franchises from about a quarter of its dealers.
**Chrysler's list of Utah dealers impacted:**
| Dealer name | Address |
| --- | --- |
| Barber Bros. Motor Co. Inc. | 1339 N. Main St. Spanish Fork, UT 84660 |
| Cutrubus Motors Inc. DBA Rocky Mountain Chrysler Jeep | 770 W. Riverdale Rd. Ogden, UT 84405 |
| Davis Motors Inc. | 101 N. 300 East Tremonton, UT 84337 |
| Layton Dodge Inc. DBA Cutrubus Motors Chrysler Jeep | 1234 N. Main St. Layton, UT 84041 |
| Lunt Motor Company | 39 S. Main St. Cedar City, UT 84720 |
| Painter Chrysler Dodge Jeep | 1100 N. Main St. Nephi,UT84648 |
| Painter's Sun Country Chrysler Dodge Jeep | 1600 Hilton Dr. St George, UT 84770 |
| Parkway Motors | 1010 N. Main St. Cedar City, UT 84721 |
| Robert Hinckley Dodge | 2810 Washington Blvd. Ogden 84401 |
| Tri State Motors | 298 S. Main St. Cedar City, UT 84720 |
Provided by the New York Times

On that list: 10 dealerships in Utah, spanning the length of the state along the Interstate 15 corridor. It includes dealers in Spanish Fork, Tremonton, Ogden, Riverdale, Layton, Nephi, St. George and three in Cedar City. The owner of a pair of dealers in northern Utah says his operations have been recognized as a leader in sales, customer satisfaction and service. He says he's stunned and baffled to be on the list.

"Real uncertainty, especially for our employees. We have other franchises and other dealerships, and we will survive and we'll do OK, but I think it's criminal to be able to have that kind of power where you can dictate other people's lives," said Homer Cutrubus, owner of Cutrubus Motors, Inc.

Cutrubus says sales in his Ogden dealership on Riverdale Road have been 129-percent of their market share. He believes Chrysler kept only dealers who have larger showrooms and sales space, and who have the population to support it.

But Cutrubus says the customers may be the real losers. "We're going to do everything we can to keep warranty work going as long as we can," he said.

But in the long run, Cutrubus says the change will leave Davis and Weber County customers with few services for service: there will be no Chrysler dealers between Logan and Bountiful.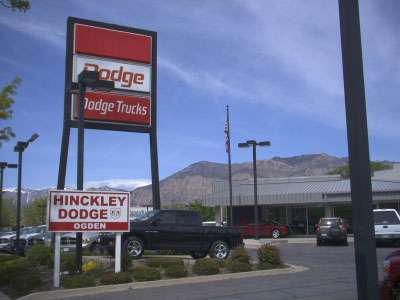 Ogden's Hinckley Dodge is also on the list. Dealers there and around the state sharply criticize Chrysler's planning but say they'll just have to live with it and plan on soldiering on.
"We will have to trim our staff a little bit, and we won't be selling new vehicles, but we will be in operation as we have been since 1915. We'll be selling used cars and doing service and parts operations," said Jim Hinckley, owner of Hinckley Dodge in Ogden.
Car sales generate a huge chunk of Utah's tax revenues, typically ranking in the top three for the state, along with food and retail sales. A loss of dealers could have a big impact on many local economies in Utah.
"The effect of those dealers not being there anymore is devastating to the communities, sales tax, property tax, support of schools, and all those kind of things. So, in our opinion, it's very short sided," said Craig Bickmore, executive director of New Car Dealers of Utah.
An effort is underway in Congress to get a large bipartisan group of lawmakers to sign a letter urging Chrysler to reconsider this plan. Meanwhile, General Motors is expected to release a similar list Friday.
------
Story compiled with contributions from John Daley and Marc Giauque.
×
Related links
Most recent Utah stories