Estimated read time: 2-3 minutes
This archived news story is available only for your personal, non-commercial use. Information in the story may be outdated or superseded by additional information. Reading or replaying the story in its archived form does not constitute a republication of the story.
PROVO -- A sting operation in Provo has netted nine arrests. The men are accused of soliciting sex from a prostitute who turned out to be an undercover cop.
Police believe people were using Craigslist to meet in Provo for prostitution. So, they set up a sting using the Web site and in just one afternoon their suspicions were confirmed.
Detectives posted a phony ad in the Provo-Orem section of Craigslist claiming a woman from Las Vegas was looking for some fun while visiting Provo. The ad was similar to several they had seen on the site before. After it was posted, 11 men called and set up an appointment, and the next day nine of them showed up.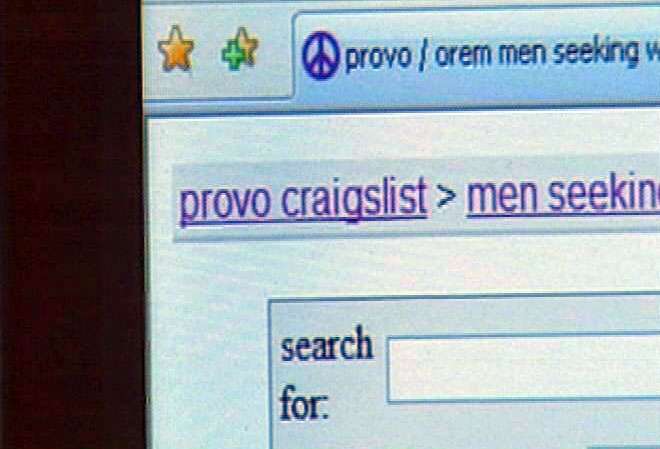 "We set up at a local hotel, and appointments were made to appear at that hotel at a certain time to meet this woman. The male adults came to the hotel, the conversation ensued between an undercover female officer, and we made sure the reason they were there was to pay for sexual services," Argyle explained.
Police arrested nine men, ages 58 down to 22. The men came from Park City on the north and Santaquin on the south, as well as several cities in between.
"I think all of them were surprised. Some of them were ashamed of their activities. Just about all of them said, 'It's my first time,' which may or may not be the case, probably not. And a couple were honest and came right out and said that this was not their first time and they had been involved in the activity before," Argyle said.
Craigslist is under fire after the man known as the "Craigslist Killer" was arrested. Just yesterday, the Web site announced it was discontinuing its erotic services section and replacing it with a fee-based adult section, which the company says will be monitored for prostitution.
Provo police say they have plans for similar stings in the future. "On this particular sting, we worked the demand side of the problem. In the future, we are also going to work the supply side, which is the prostitutes themselves. This is not a one-time thing," Argyle said.
All of those caught in the sting were cited for misdemeanor sexual solicitation, given a day to appear in court and then released.
------
Story compiled with contributions from Sam Penrod and Randall Jeppesen.
×
Most recent Utah stories