Estimated read time: 2-3 minutes
This archived news story is available only for your personal, non-commercial use. Information in the story may be outdated or superseded by additional information. Reading or replaying the story in its archived form does not constitute a republication of the story.
LOGAN -- A Utah scientist has testified before the United States Senate, urging Congress to take a long, hard look at algae as a source for biofuels. Jeff Muhs told senators the green stuff could easily grow in bio-reactors and on farms.
At a Utah State University USTAR lab, for example, algae is growing in all kinds of containers, vats, grids and on rollers. The algae not only makes high-quality biofuel, it scrubs the air as well.
"Grows very fast, uses up a lot of CO2, or carbon dioxide, in the process," Muhs said.
In fact, that intrigues Congress, which is looking at ways to get rid of CO2; algae does that naturally in a big way. "Their interest was in the beneficial uses of carbon dioxide after it's been emitted from a power plant or other industrial processes," Muhs explained.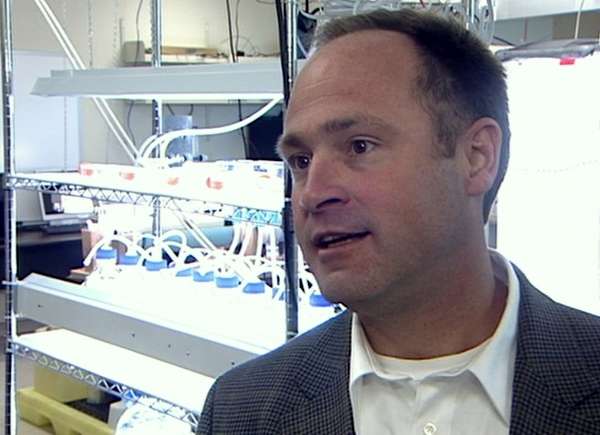 USU researchers started with over 300 different strains of algae and have now weeded that number down to five -- five with a lot of oil content.
"It can grow very rapidly, sometimes doubling as much as five or six times a day in its mass," Muhs said.
He says some pilot labs, similar to USU's lab, could be in place in southern Utah within three to five years. There, researchers would test the best mechanisms for growing algae.
The next step researchers envision growing algae in the sun. It would be done rapidly, and in large quantities, on what are called bioprocessing farms.
"Places like southern Utah, where there are not a lot of green plants growing, we can essentially increase that uptake of CO2 through photosynthesis," Muhs explained.
The plan would get rid of CO2 while producing between 2,000 and 10,000 gallons of biofuel per acre per year -- that compares to soybeans at only 50 to 80 gallons. If true, green is beautiful.
Some industry partners with the USTAR project predict they'll have commercial systems up and running within five years. Muhs is looking at five years beyond that before the process really becomes cost-effective.
E-mail: eyeates@ksl.com
×
Most recent Utah stories