Estimated read time: 2-3 minutes
This archived news story is available only for your personal, non-commercial use. Information in the story may be outdated or superseded by additional information. Reading or replaying the story in its archived form does not constitute a republication of the story.
If you think you have an interesting "Today's Woman" topic, you can contact Candice Madsen at cmadsen@ksl.com. SALT LAKE CITY -- Finding a good-paying job in rural Utah isn't easy, but four women have created a company that brings the work right to individuals' home computers, and their efforts have won them national recognition.
CedarEdge Medical Coding and Reimbursement translates medical lingo from doctors into insurance codes for billing. They outsource all of the work to subcontractors who are traditionally considered unemployable because of handicaps, lack of education and geographic isolation. Nancy Reading, Chris Simeona, Barbara McGann and Jenny Cox are the women behind CedarEdge Coding.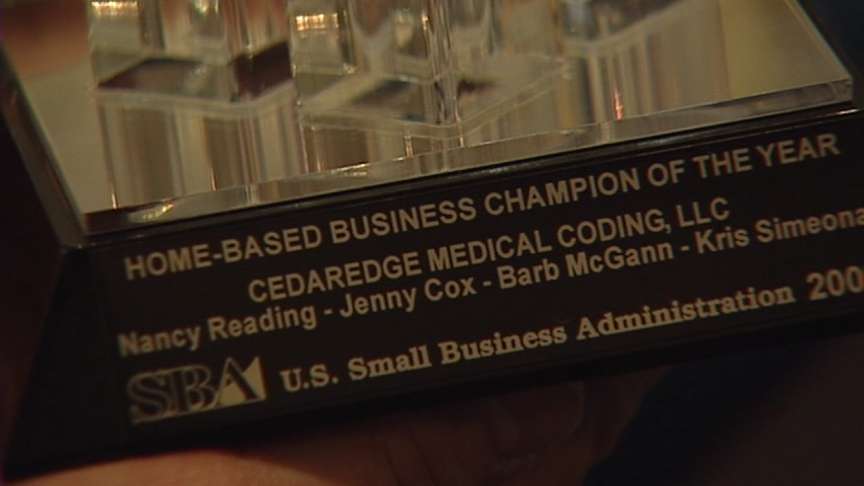 The Small Business Administration recently honored them and their success at their annual awards luncheon. "We've come up with a very virtual model that is essentially pretty free of overhead," explained Nancy Reading.
CedarEdge trains and mentors novice coders, obtains contracts and farms out work to coders who are set up at home.
"When we started it was just a handful of us going from place to in my travel trailer to meet with these coders," Reading said.
They now have coders scattered throughout Utah and southwestern Colorado and stay connected through the Internet.
Barbara McGann said, "I live 30 miles from the nearest gas station, store, town, and so I can just stay at home and work."
It's a convenient arrangement not only for those who are isolated, but also for those who need flexibility, something Jenny Cox understands well. She said, "My kids are busy; dance, gymnastics, piano, football, baseball, basketball. We still go to all that, and I do my coding at my own hours, so I can take care of them."
Reading explained, "A lot of our coders work part-time but are able, because they've gotten very fast and very good at what they do, are able to earn between $25,000 and $35,000 a year working part-time from home."
Giving people the opportunity to earn a good income is what these women are proud of most. All the recognition is an added bonus. "This has been such an exciting journey, and to think that we've now gained national recognition and are 35 strong, it's a dream come true. It's very exciting," Reading said.
The women of CedarEdge Coding will head to Washington, D.C., next week to accept the national home-based business of the year award.
They've also been invited to attend an event at the White House and may even meet President Obama.
The company is still working on a Web site but you can contact them by calling 435-578-0339 or writing them at:
CedarEdge Medical Coding and Reimbursement, LLC
P.O. Box 442
Ferron, Utah 84523.
×
Most recent Utah stories