Estimated read time: 3-4 minutes
This archived news story is available only for your personal, non-commercial use. Information in the story may be outdated or superseded by additional information. Reading or replaying the story in its archived form does not constitute a republication of the story.
SALT LAKE CITY -- The accidental death of former Congressman Bill Orton has focused new attention on the dangers of dune buggies. Now a YouTube video of a spectacular crash last Sunday at Little Sahara Sand Dunes has added to the debate.
As horrible as the crash looks, we're happy to report the driver, Chris Torres, survived; surgeons were able to reattach his severed right hand.
Torres spoke to KSL Wednesday afternoon from the intensive care unit he is hospitalized in. He said no one should use his accident as an argument for more regulation; he did a wheel stand on purpose, but the landing was not what he expected.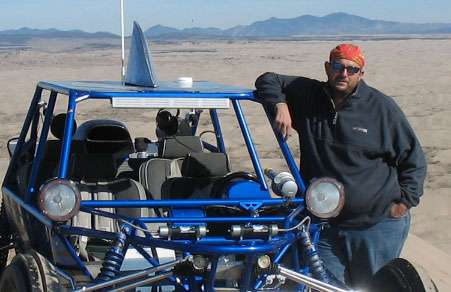 Torres also emphasized that drugs and alcohol were not involved, and his dune buggy proved itself. "It did not crush. It did not collapse. It protected me, and I'm here alive today because the car did its job," he said.

But his friend, Ron Cobbley, who sold the dune buggy to Torres just last week, called us to emphasize a different point: unsafe conditions at Little Sahara Sand Dunes are because of crowding and extreme driving.

"My concern is there isn't any rules when you get out on the sand," Cobbley said. He wants more training and education, possibly some kind of traffic control and riders wearing helmets and wrist restraints to keep arms inside the vehicle.

Torres used a harness but not wrist restraints, a key reason he injured both arms and severed his right hand.

"It basically was a tragedy, what happened to this guy, and I don't know that it could have been prevented or not," Cobbley said. "I just think that there's no rules when it comes to off-road."

Little Sahara typically has over 100 accidents and two or three deaths each year. "There are so many folks that go there and use that area we're really surprised there aren't more accidents than occur out there," said Eric Stucki, with Utah State Parks and Recreation. Government overseers strongly support more education, but not necessarily more regulation. "How many times have we heard that the federal government is over-regulating this activity or that activity? We have to find a balance of some sort," said Glenn Carpenter, West Desert district manager for the Bureau of Land Management.

Except for the failure to use wrist restraints, Torres says he did his wheel stand stunt safely, including the use of spotters up and down the hillside. "We did everything the way that we should have done it, correctly, and I don't think that any kind of a regulation would have helped or deterred this accident from happening," he said.

Later this year, Utah State Parks plans to launch an online training program so off-roaders can get up to speed on safety by learning at their computer.

×
Related links
Related stories
Most recent Utah stories