Estimated read time: 4-5 minutes
This archived news story is available only for your personal, non-commercial use. Information in the story may be outdated or superseded by additional information. Reading or replaying the story in its archived form does not constitute a republication of the story.
SALT LAKE CITY -- A man who has become a symbol of protest in the global warming saga went to court Tuesday on charges that could send him to prison for 10 years. He was supported by hundreds of people who say what he did was right, even if it did break the law.
Tim DeChristopher, 27, got what he wanted: a chance to plead "not guilty" and a trial date in July on charges of disrupting a government oil and gas auction.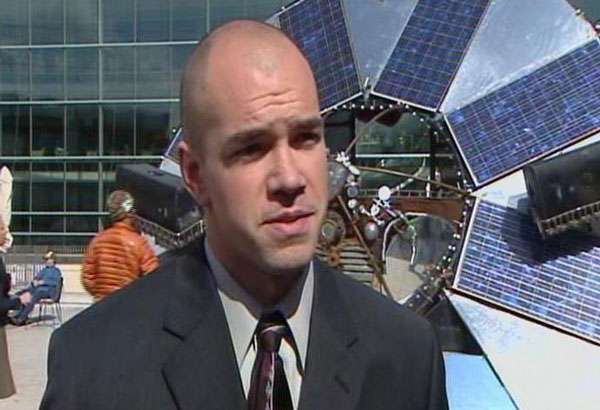 His trial is scheduled to begin on July 6. If DeChristopher is convicted, he could face up to 10 years in prison and be responsible to pay a $750,000 fine. DeChristopher was released on the condition that he surrenders his U.S. passport.
Defense attorneys say it's unlikely DeChristopher would accept a plea bargain and they expect to fight the charges at trial.
The case is attracting lots of attention because, as with many acts of civil disobedience, it's polarizing people into two camps.
One participant said it looked like the '60s when civil disobedience was part of the national conversation. The crowd celebrated Tim DeChristopher for stopping an auction that would have added to Global Warming.
Supporter Paul Stack said, "He thought that the cogs, the gears of the machine, were running the wrong way, and so he picked up a wrench that he saw and threw it in the machine. So, I support it."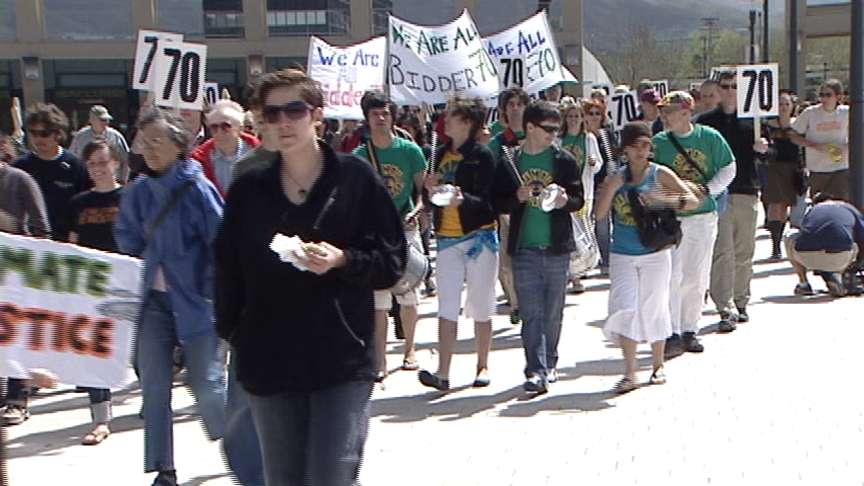 He added, "I hope that it will be a fair shake of justice. If it's just about political retribution, I think that's a waste of taxpayer money."
"A lot of people are interested in the cause but are unwilling to take the time or are unaware of ways in which to be helpful, and Tim DeChristopher has kind of opened up a whole new door into that possibility," said supporter Louise Ewing.
Many supporters carried the number 70, the bidding number DeChristopher used. They marched with him as he headed off to federal court to face the music. He pled not guilty but says he's willing to accept years in prison if a jury says he has to.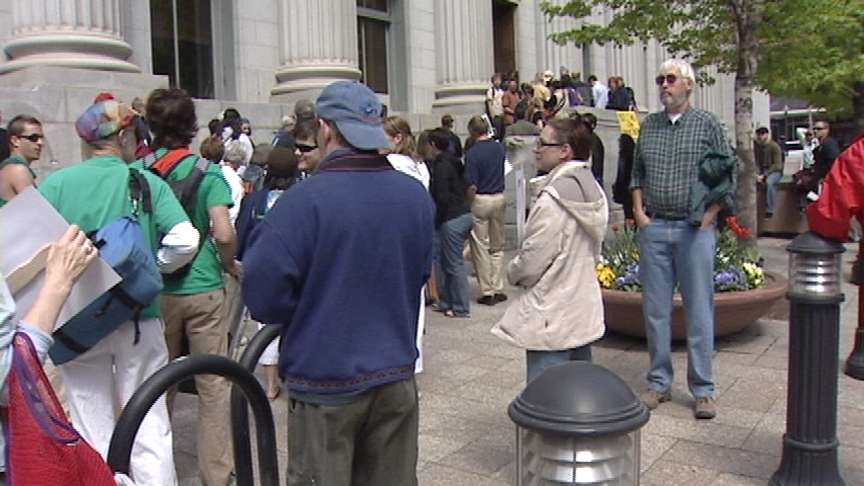 He told his supporters the indictment against him by the U.S. Attorney is an effort to scare off those who stand up for a livable future. He said, "I'd like to eventually see a trial with a jury of my peers, where we can really expose the deeper injustices in the system that consistently chooses the short-term profits of a few over the lives and well-being of many. We can use the trial to really address our moral imperative to defend a livable future."
He said looking back, he would do it all again. He said, "I made the decision there at the auction that I was willing to deal with the consequences of my actions, and that means this. It means going to court. It means possible prison time. I made that decision then, and I still believe in it now; that it was worth it, and it's still something that I'm ready to deal with."
Supporter Ashley Anderson said, "It's a basic attitude where you're willing to make certain sacrifices and take opportunities if they come your way in order to do what's right for future generations."
But the Web commentary from some KSL viewers has been merciless. One person wrote: " 'Not guilty' is just a flat out lie."
"(He's) wasting the tax payers' money," wrote another viewer.
"He is a fool and so are the rest of you protesters. How many of you fools drove your comfortable vehicles to the rally that require fuel to opperate them?" asked a viewer.
"This country is better off with one less lawbreaking, jobless, anti American, pro socialism hippie," claimed another viewer.
Ewing said, "I think he's letting people know that it's not all about money. It's not all about big energy. It's about planet earth, which is what all animals and humans have to depend on for life."
The judge scheduled a week-long trial, suggesting it's more than just a case of 'did he?' or 'didn't he?'
It may turn out to be what DeChristopher wants, an extensive airing of the political and moral questions swirling around his actions.
------
Story compiled with contributions from John Hollenhorst, Shara Park and Mary Richards.
(Copyright 2008 Bonneville International Corporation. All rights reserved. This material may not be published, broadcast, rewritten, or distributed. AP contributed to this report.) AP Rights & Restrictions
×
Related stories
Most recent Utah stories