Estimated read time: 3-4 minutes
This archived news story is available only for your personal, non-commercial use. Information in the story may be outdated or superseded by additional information. Reading or replaying the story in its archived form does not constitute a republication of the story.
SALT LAKE CITY -- Congressman Bill Orton was remembered during funeral services Friday, less than a week after he was killed in an ATV accident. Dozens turned out to remember a political legacy that some call unique, even amazing.
The service featured speakers including Gov. John Huntsman, KSL's Doug Wright and several friends and neighbors.
A neighbor says Orton's legacy is that of a dedicated husband and father as much as a dedicated public figure. "His boys were his world. Everything that he did, he did thinking about his boys. He loved to spend time with them," Katheryn Knight said.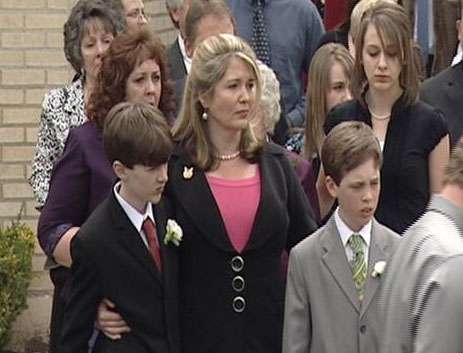 The governor Orton's boys, Will and Wes, directly during the service, urging them to pass on their father's legacy and of community service.
Orton started his family relatively late in life -- around the age of 40. He was enormously proud of his wife and sons. In the mid-1990s, he would take his newborn son to Capitol Hill to show him off.
In his public life, Orton was very active in politics and is most remembered for overcoming the odds in Congress: A Democrat serving three terms in Utah's heavily Republican 3rd Congressional District.
"What had happened in 1990 that made Republicans comfortable with Bill was they saw him as someone they could trust; didn't agree with him on the issues, but they trusted Bill. And that kept carrying over," said Wayne Holland, chairman of the Utah Democratic Party.
Orton was a unique political figure in Utah in many ways. He was one of the most outspoken Democrats in the state, never hesitating to criticize the Republican majority on policies he thought were wrong. But he was a conservative Democrat, one of the founding members of the "Blue Dog" Democrats in Congress.
He attended last year's Democratic National Convention in Denver and was one of the overwhelming majority who nominated Barack Obama as the candidate for president.
Orton wrote a blog for KSL.com during that time. He was always eager to give his opinion on political matters, but always ready to listen to the other side too.
Jenny Wilson, a former Orton staff member, said, "Nobody could replace Bill. He was so intelligent, so committed to what he did. I remember in the early years he created his own budget. He wouldn't agree to the Democrats' budget. He wouldn't agree with the Republicans' budget. He was really working with the Clinton administration to try and get them to understand his principals in that budget, and the Washington Post endorsed it."
Former Congressman Merrill Cook said, "He was a man of total integrity. He voted and talked and believed what he thought in his heart and mind, and that was always what was good for Utah, not necessarily for either party, and I really appreciated that."
"He's been quite the fine example for me to model after; very conservative on some of the issues, and his alignment with the 'Blue Dog Democrats' has been something I've been following for years," said Aaron Thompson, a man who says he admired Orton.
Burial was planned on Friday afternoon at the Ben Lomond Cemetery in North Ogden.
Gov. Huntsman ordered flags at all state-owned facilities to be flown at half-staff from sunrise to sunset on Friday.
------
This story compiled with contributions from Richard Piatt and the Associated Press.
×
Related stories
Most recent Utah stories