Estimated read time: 2-3 minutes
This archived news story is available only for your personal, non-commercial use. Information in the story may be outdated or superseded by additional information. Reading or replaying the story in its archived form does not constitute a republication of the story.
SALT LAKE CITY -- A growing number of common backyard birds are dying, and experts are blaming salmonella. The event is occurring nationwide, but there have been at least a couple dozen reported cases in Utah. Experts say some of us are making the problem worse.
The Pine Siskin is smaller than the House Finch and usually has yellow and dark streaks down its body. These birds are common in Utah, but now they're running into trouble.
"Some birds recover, get better and move on, and some birds don't," said Bill Fenimore, owner of the Wild Bird Center of Layton.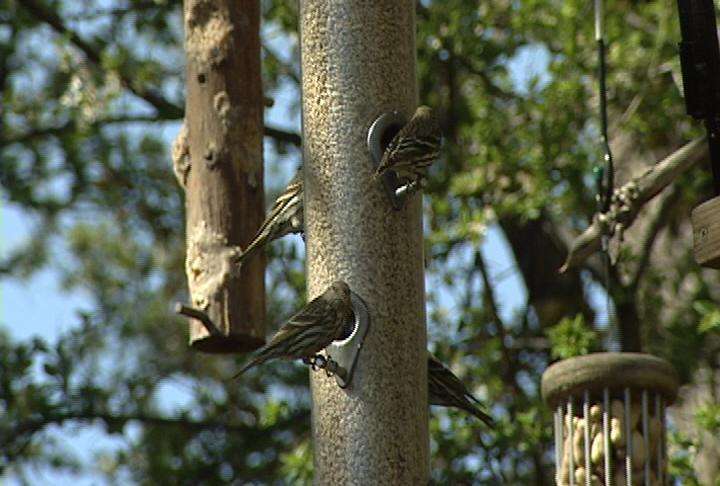 Across the Wasatch Front, there have been at least 30 reports of Pine Siskins dead from salmonella. Fenimore says the birds are likely infecting each other around feeders.
"They gather around in large flocks and as they defecate and that falls onto the ground, any seed that may fall on the ground can become contaminated with those droppings," Fenimore said.
"What happens is the bacteria gets built up on their bird food and then it goes from one bird to the next," explained. Leslie McFarlane, with the Utah Division of Wildlife Resources.
DWR has been watching the problem since dead bird reports began popping up in Idaho. Experts say when the birds are sick, they become lethargic, more approachable and their wings may droop.
"They get really thirsty, so you'll see them maybe around your bird baths and things like that," McFarlane said.
Experts say clean your bird feeders frequently with a 10 percent bleach solution, replace old bird seed and rake up seeds that may have fallen on the ground below.
"It's kind of like if we went to the Jazz game and there's 14,000 screaming fans, every once and a while you'll notice someone sneezing, coughing and shaking hands with other people," Fenimore said.
Experts believe the salmonella is not coming from the bird seed itself. They also say it's important to keep your bird feeders clean to protect your pets and young children.
E-mail: wjohnson@ksl.com
×
Most recent Utah stories