Estimated read time: 6-7 minutes
This archived news story is available only for your personal, non-commercial use. Information in the story may be outdated or superseded by additional information. Reading or replaying the story in its archived form does not constitute a republication of the story.
JUAB COUNTY -- The Juab County Sheriff confirms that former Utah Congressman Bill Orton, 60, was killed in an ATV accident at Little Saraha Sand Dunes Saturday afternoon.
Sheriff Alden Orme says it happened around 4 p.m. He says Orton was riding a large ATV down a steep sand dune when the vehicle apparently flipped and landed on top of him. Another rider discovered him a short time later.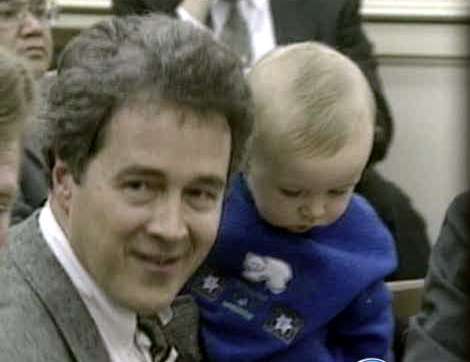 A West Juab ambulance and Air Med responded, but Orton was pronounced dead at the scene. Orme says Orton was with a group of people at the dunes but was by himself when the accident happened.
His body was taken by ambulance to Central Valley Medical Center in Nephi. An autopsy is pending.
Orton, who was wearing a helmet, was among thousands of four-wheel enthusiasts at the popular park, "a fun but dangerous place to ride," the sheriff said.
"Out there, it's a lot of rolling hills. He went off a sand dune without realizing how far down he was going," he said.
---
"He was a dedicated public servant who worked to serve his constituents to the very best of his ability." Sen. Orrin Hatch
---
Injuries are common. Orme said several other riders Saturday were involved in crashes or collisions, and more than two dozen were injured last weekend, when five had to be airlifted by medical helicopters to hospitals.
Orton, a Democrat, represented Utah's 3rd Congressional District from 1991 to 1997. His election in November 1990 was big political news because he was a Democrat and won in what many considered the most Republican district in the nation. It was a convincing victory; he defeated Karl Snow by 22 percentage points. He was easily re-elected in 1992 and 1994.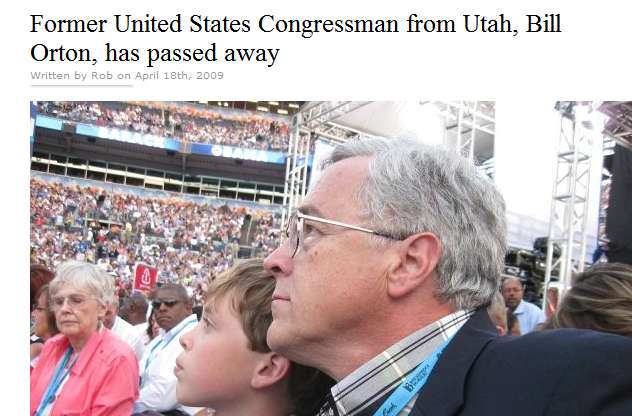 Orton was born in North Ogden, had a law background, and served on a number of House committees dealing with the budget, small business and banking.
Orton lost his bid for a fourth term when Republican Chris Cannon narrowly defeated him in 1996.
When he left office, Orton returned to practicing law. He also ran for governor at the peak of Mike Leavitt's popularity in 2000 and had a strong campaign, but lost the election.
More recently, during last summer's presidential campaign, Orton provided regular commentary and blogs here on KSL.com.
Orton is survived by his wife, Jacquelyn and two sons, Will and Wes. His wife posted a message on the Internet site Facebook that reads, "I must go meet my children, who were with their father, in Provo as quickly as possible. Please excuse the crassness of this announcement. Please keep us in your prayers."
Colleagues saddened by Orton's death
Salt Lake County Councilwoman Jenny Wilson, Orton's Chief of Staff for three years:
"I think at times he found politics hard. His passion was always in the details and getting things right. He loved Utah. He loved serving Utah. I think it's fitting but sad that he was in southern Utah, a place that he loved very much and represented, at the time of his death."
Congressman Jim Matheson, D-Utah:
"This is a great loss to our state. Bill carried a strong commitment to serving the people of Utah with him to Washington, D.C. He was a true Westerner with the independence that Utahns value in their elected officials. Even today, in the part of my district that was once part of his, people remember his efforts on their behalf. I extend my deepest sympathies to Jacqueline and their boys. My thoughts and prayers are with his family at this difficult time."
Wayne Holland, Utah State Democratic Committee Chair:
"Our thoughts and prayers go out to his wife and family. Bill's death is a huge loss to the Democratic Party. He was an incredible example of someone who wanted to do good, defeat the odds and win. He was one of the shining examples of the Democratic Party and he will be greatly missed."
Rep. Jason Chaffetz, R-Utah:
"I am saddened by the passing of Bill Orton. My best goes to the Orton family. He was far too young. I lived in Utah County when he was first elected to Congress. He will be missed. He served with honor, and his family should be most proud of his service to his country and the state of Utah."
Sen. Orrin Hatch, R-Utah:
"My thoughts and prayers are with Jacquelyn and the Orton children at this difficult time. He was a dedicated public servant who worked to serve his constituents to the very best of his ability. He loved his family greatly and he also loved our wonderful state. He will be missed by many for his knowledge and experience, including me."
Sen. Bob Bennett, R-Utah:
"This is a great shock. My first thoughts are for his wife and sons, to whom he was devoted, above politics or anything else.
"As a congressman, he was always well prepared to defend his position, which was often independent of either party. He was an important figure in Utah's political history and Joyce and I mourn his passing."
Richard Davis, chair, Utah County Democratic Party:
"Bill Orton's passing is a sad moment for Utah County Democrats. Bill was a paragon of principle. He wanted to do the right thing in government and didn't care much about the politics of the consequences. He was a model for Democrats in Utah County because he was a public servant who believed that the voters would be attracted to a moderate who eschewed strong partisanship and extremist ideologies. His success as a Democrat in Utah County has been a guide for us as we attempt to reinvigorate the party. I'm glad we were able to honor him with the naming of the Orton Circle while he was alive. We will miss him greatly."
Scott Matheson, U of U law professor and Democratic figure:
"Bill was very smart and capable. He was a dedicated public servant and continued to have much public service to offer. Voters in the most Republican district in the country thought so much of his talents that they elected him as a Democrat to Congress three times. He worked hard and effectively on their behalf."
Joel Lawson, press secretary to Rep. Orton, 1991-1995:
"People in Washington often didn't hear the beat of a different drum to which Bill stepped. He was not in the mold of a typical politician, it showed, and that's why he served superbly. If explaining his views to others in Washington wasn't always easy, we knew it didn't matter: his constituents mattered more. Working for him was an absolute honor."
E-mail: spenrod@ksl.com
Copyright 2008 Bonneville International Corporation. All rights reserved. This material may not be published, broadcast, rewritten, or distributed. AP contributed to this report.
×
Related links
Most recent Utah stories