Estimated read time: 2-3 minutes
This archived news story is available only for your personal, non-commercial use. Information in the story may be outdated or superseded by additional information. Reading or replaying the story in its archived form does not constitute a republication of the story.
SALT LAKE CITY -- After deliberating for three and a half hours, a jury found a young mother guilty of murdering her toddler son by snapping his spine.
There is no question that 22-month-old Alejandro Lucero had a difficult life. Not only did the medical examiner testify that his spine was broken in half, but also that there were past signs of abuse as well: bruises and a fractured rib.
His mother, Adrianna Lucero was sobbing as she sat in court Friday afternoon as a jury read their verdict against her: Guilty of child abuse. Guilty of murder.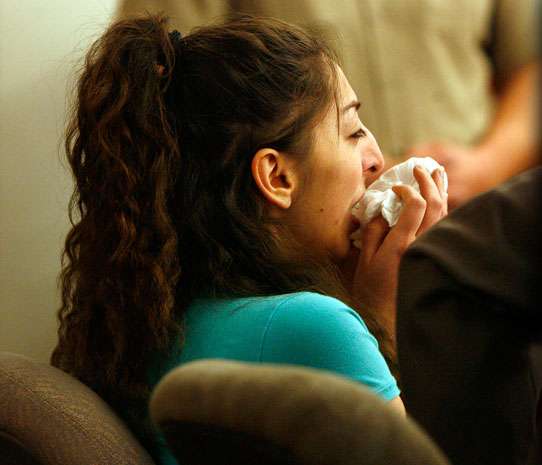 Outside the courtroom, her lawyer expressed surprise. "I don't think the evidence was there," Stephen McCaughey said. "I think any case like this is difficult, but the jury didn't seem to have a lot of problems with it coming back quickly."
Friends and family left visibly upset.
Prosecutors told the jury that, last August, the then 17-year-old mother was overwhelmed as a single parent. She snapped and broke Alejandro's spine while at her boyfriend's apartment in Kearns.
At first, Lucero told police she'd been alone. She later changed her story, saying she lied to protect that boyfriend, Sergio Martinez-Gonzales, from deportation.
Her attorneys say that's why she took the stand. "I think she needed to explain herself and explain why she lied originally," McCaughey said.
On the stand, Lucero denied hurting the boy. She said Martinez, who is the father of her twin boys but not the father of Alejandro, killed the toddler.
"In this case, Ii think she was a good witness and it was a good decision to testify," McCaughey said.
But it was testimony the jury didn't buy. Now Lucero waits for sentencing. She could spend up to 20 years in prison.
There's a motion hearing scheduled for May 26 to discuss merging the murder and child abuse charges into one. After that, a sentencing date will be set.
------
Story compiled with contributions from Sarah Dallof and Sandra Yi.
×
Related stories
Most recent Utah stories