Estimated read time: 2-3 minutes
This archived news story is available only for your personal, non-commercial use. Information in the story may be outdated or superseded by additional information. Reading or replaying the story in its archived form does not constitute a republication of the story.
SALT LAKE CITY -- The Obama administration says some hopeful signs suggest the economy is getting better. Fewer people are applying for unemployment, the U.S. is selling more goods overseas, CEO's appear more optimistic and the stock market is up 22 percent in the past five weeks.
But the big keys to recovery will be jobs and housing. So while the recession may be stabilizing, it is far from over. That mixed bag is mirrored in Utah's real estate market. Consider these two statistics from Salt Lake County: overall home sales are down, but the median sale price has leveled off.
Sales of homes and condos in Salt Lake County fell sharply from above 1100 in February of 2007 to about half that in February of this year.
But home sales in February rose 32 percent over January, and the median sale price has essentially held steady over the past two years at about $225,000.
The federal government is offering an $8,000 tax credit to first-time buyers, or those who haven't owned a home in three years.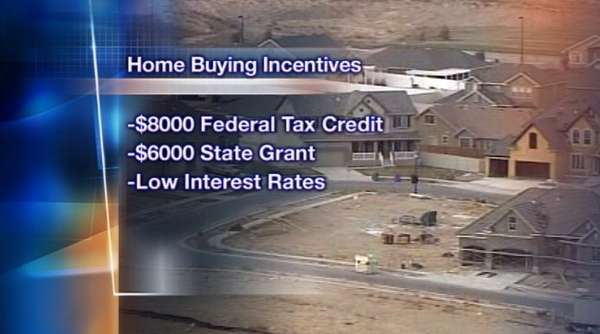 The state is offering $6,000 to buyers of new homes, and mortgage interest rates are now below 5 percent.
The head of the Salt Lake Board of Realtors says those factors make him optimistic. Ryan Kirkham, President of the Salt Lake Board of Realtors, said, "If you're going to buy, you really should be looking now, and I really believe that. It's a tremendous opportunity for buyers out there."
He added, "All of the sudden, I think people are realizing there's light at the end of the tunnel; this isn't a forever problem. And I think there's optimism there. In fact, I know there's optimism there."
University of Utah economist Jim Wood says the real estate market, especially of new home sales, has been in a virtual free fall for two years, but with new government incentives, could be poised for recovery. "Where we are now, we're through the worst," he said. "We're closer to the bottom, closer today than we were last week, but it's going to be a rough year."
He said while those programs should help, rising unemployment could pose a problem. "Right now, we've just got to work ourselves out of this really serious recession, and that will tend to offset some of these positives."
Wood says Utah is in much better shape than Arizona, Nevada, California and Florida, where they severely overbuilt and now have too many unsold properties.
E-mail: jdaley@ksl.com
×
Most recent Utah stories