Estimated read time: 2-3 minutes
This archived news story is available only for your personal, non-commercial use. Information in the story may be outdated or superseded by additional information. Reading or replaying the story in its archived form does not constitute a republication of the story.
SALT LAKE CITY -- You have probably wondered about the new building under construction in downtown Salt Lake at the corner of North Temple and Main Street. Well, it's getting ready to open.
A time capsule was filled for the new History Library of The Church of Jesus Christ of Latter-day Saints Wednesday.
After three years of construction, the time capsule was lifted into the cornerstone of the new Church History Library. President Thomas S. Monson added his book, "Faith Rewarded," about the Latter-day Saints in the former East Germany.
"It covers one of the most traumatic and dramatic portions of my ministry in the last years," President Monson said.
Inside the capsule are scriptures, "The Joseph Smith Papers," photographs of the faith, writings of early Church leaders, quite different from what the pioneers brought West.
Church leaders say the time capsule is to provide future generations a snapshot of the faith today.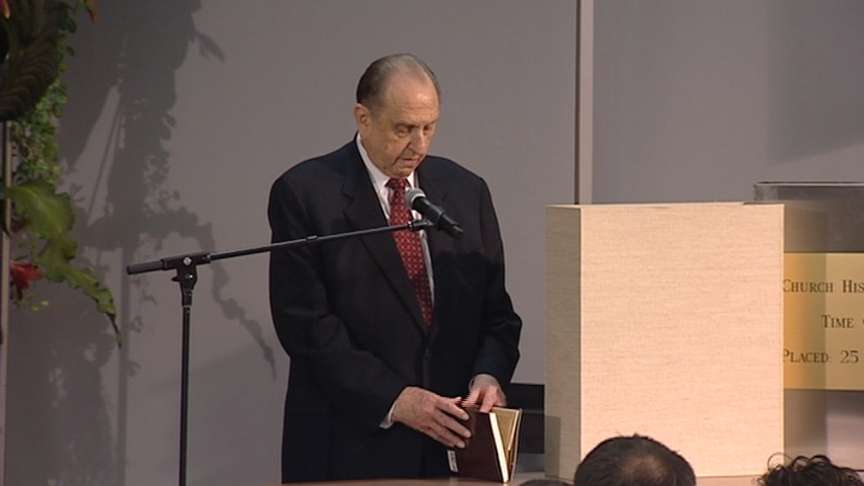 When asked what will this building will house and who will use it, Elder Marlin K. Jensen, LDS Church Historian, said, "Just in a word we're talking about 50 miles of shelving filled with what I would call the priceless treasures of church history: manuscripts, books, journals, letter, photographs. It's 180 years worth of collecting."
He hopes the spacious lobby will welcome the public to learn about their families or the faith in their areas.
Richard E. Turley, Jr., assistant LDS Church Historian, said, "Many of our users are actually family historians, who are actually interested in learning about their family's past in the church. Other people are actually interested in writing histories of their local church units. Some are scholars who are coming here to write about the history of the American west or the history of various parts of the world in which Latter-day Saints have played a role."
Kay Darowski, with "The Joseph Smith Papers" project, said, "We've waited for this for a long time. We both worked for "The Joseph Smith Papers" project, and they'll be moving over here next month, and we'll have expanded facilities, easier access to documents that we work with. It will be just wonderful. We're very excited for this move."
The new building is across the street from the Conference Center and Temple Square, so it's expected to have many out-of-town visitors. From time to time there will be displays of historic manuscripts and books.
The Church History Library will have a public open house in early June before its dedication June 20.
E-mail: cmikita@ksl.com
×
Most recent Utah stories