Estimated read time: 3-4 minutes
This archived news story is available only for your personal, non-commercial use. Information in the story may be outdated or superseded by additional information. Reading or replaying the story in its archived form does not constitute a republication of the story.
SALT LAKE CITY -- A text message making its way to cell phones across Utah had some people a little nervous to go to Wal-Mart stores tonight. The message, which was discounted by police, claimed a gang initiation was underway that involved shooting women at a Wal-Mart store.
Though most of the shoppers we spoke to on Thursday don't believe the text message, it still got them thinking.
Catrina Wilson, for example, was told about the now-infamous text message by her friends. Normally, she laughs off those types of messages, but this one was enough for her to wait until her husband got home to go shopping at Wal-Mart.
"I stayed away from Wal-Mart just because I didn't want to take any chances," Wilson explained.
Sue Hirschi heard about it because her daughter got the text message. "I wouldn't take the chance. Not to say I believe it, because I don't think I do, but it's not worth it," she said.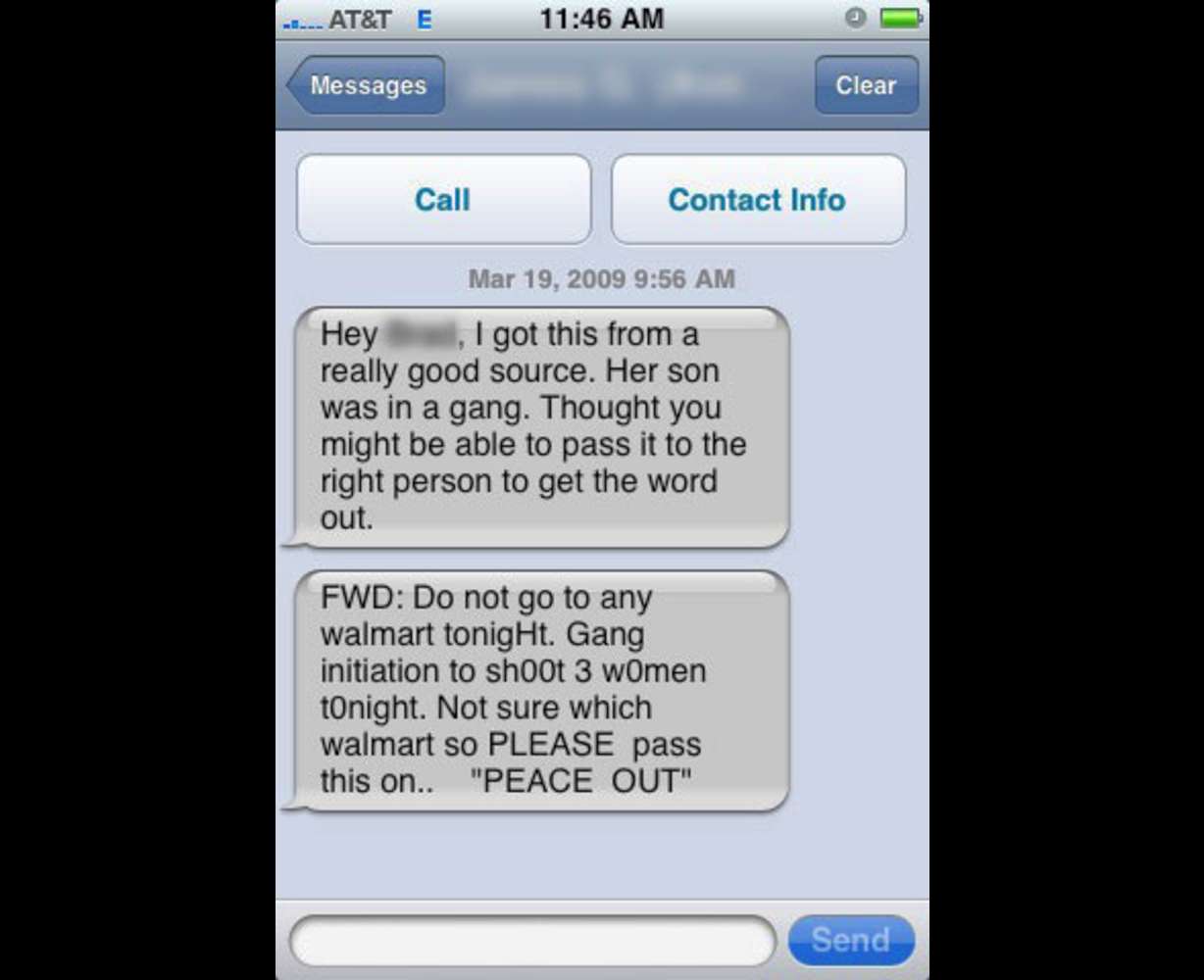 Even though everyone we spoke with isn't taking this text message seriously, we asked them if police should take it seriously.
"They probably should just to be on the safe side, don't you think?" Hirschi said.
Wilson told us, "Absolutely, just because you never know. Even if it wasn't real to start, if enough people hear about it, they could make it so. So, that part is a little scary."
That leaves police in a difficult situation. "We hate to legitimize these types of things, and also hate to draw attention to them," said Lt. Don Hutson, spokesman for the Salt Lake County Sheriff's Office.
On one hand, putting undercover officers in Wal-Marts kind of legitimizes the threat. On the other hand, what if they don't and something happens?
At the very least, law enforcement officers want people to feel safe shopping. The sheriff's office says with the Kearns High gang shooting and a recent student hit list plot, it's easy to understand why people would be concerned.
"Obviously, we have received numerous calls from people who've believed it, and I cannot blame people for that, in light of recent events here locally," Hutson said.
A similar text message has been going around for years, and is just resurfacing now. Snopes.com exposes the text as false. The rumor-control Web site says it started in 2005 as an e-mail in Memphis. That one warns of a gang initiation in which someone "is to kill a mother and a small child while shopping in Wal-Mart."
Hutson says these urban legends pop up every now and then and this one was probably started by someone who has something against Wal-Mart.
Thursday afternoon, Wal-Mart spokeswoman Kelly Cheeseman issued this statement: "The safety and security of our customers and associates is our top priority. We are aware of the message being circulated and are working with local authorities to enhance our security efforts at our stores in the area. While we take these types of situations seriously, we regard this as being only a rumor, much like similar rumors that have circulated via e-mail in previous years."
------
Story compiled with contributions from Alex Cabrero and Nicole Gonzales.
×
Related links
Related stories
Most recent Utah stories