Estimated read time: 2-3 minutes
This archived news story is available only for your personal, non-commercial use. Information in the story may be outdated or superseded by additional information. Reading or replaying the story in its archived form does not constitute a republication of the story.
SALT LAKE CITY -- The battle to combat global warming is a top priority of Utah Gov. Jon Huntsman, but that position is in the crosshairs of most Utah lawmakers, revealing yet another sharp rift between moderate and conservative Republicans.
In 2007, Huntsman and California's Gov. Arnold Schwarzenegger signed the Western Climate Initiative, a regional pact to try to reduce greenhouse gas emissions.
"More than anything else, we're setting the stage for our future. This is all part of the legacy that we're handing down to the next generation," Huntsman said.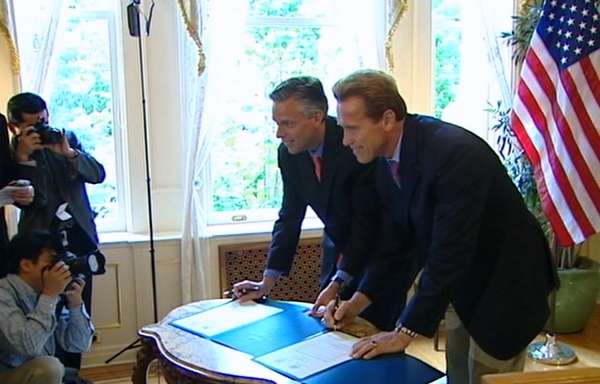 The agreement labeled the cause of climate change as "emissions of human-caused greenhouse gases, including carbon dioxide, which are affecting Earth's climate." It stated unequivocally that the "scientific consensus is that human-caused greenhouse gas emissions are affecting the Earth's climate."
This year, fellow Republicans in the Legislature passed a resolution calling on Utah to get out of the climate deal. The bill's sponsor said he didn't believe in human-caused climate change; other lawmakers worry about new regulation hurting Utah's coal industry.
"We're saying: 'Wait, wait!' We want to be careful and cautious about what we do in that arena, and we'd like to have time to look at it. We don't want to immediately join and then find the consequences. We'd rather understand the consequences and then move forward," said House Speaker Dave Clark.
Lawmakers did pass a number of measures supporting the development of renewables. They also voted to add nuclear power to that list, though the U.S. Department of Energy doesn't list it that way.
"I think just looking at the energy issues that we have in the state, why wouldn't we be willing to look at every possibility we have?" said Senate Majority Leader Sheldon Killpack.
As the climate debate continues, GOP lawmakers and the governor seem at odds over both the causes and solutions. No word yet on whether the governor plans to veto or sign that bill which adds nuclear to the list of renewable energy sources.
E-mail: jdaley@ksl.com
×
Related stories
Most recent Utah stories