Estimated read time: 2-3 minutes
This archived news story is available only for your personal, non-commercial use. Information in the story may be outdated or superseded by additional information. Reading or replaying the story in its archived form does not constitute a republication of the story.
FARMINGTON -- Adults aren't the only ones feeling the tightening economy. Many teenagers in Utah are also having trouble finding work, but an opportunity has arrived.
The first of two Lagoon job fairs happened Tuesday evening. The theme park is looking to hire about 850 new employees. A little work and some spending cash is good for the teens and the economy.
The sights and sounds of Lagoon are still close to a month away, but behind the scenes, the theme park is hard at work, trying to put people to work.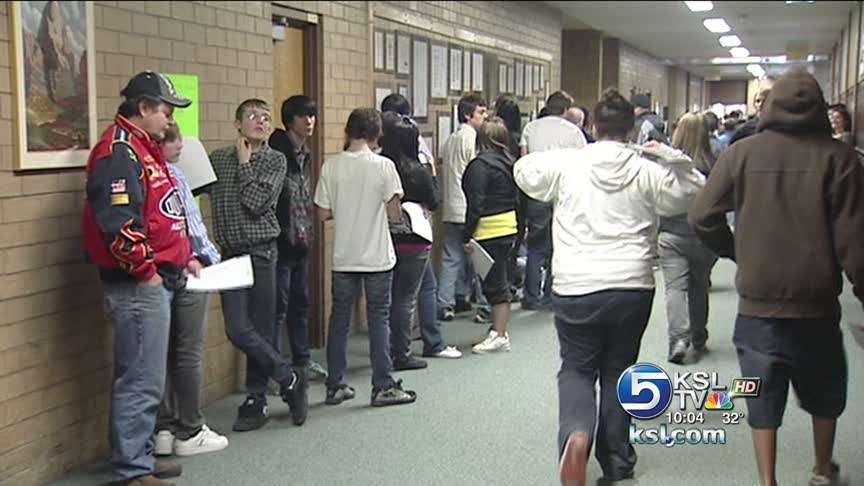 Hundreds of teenagers standing in line are hoping for a job. A steady job is in high demand these days, and it's not just mom and dad who need a paycheck.
Tuesday night's Lagoon job fair was held at Farmington Jr. High School. Turnout this year was much larger than both of last year's job fairs combined.
David Gray, employee services manager at Lagoon, said, "We had a feeling. We had heard from some other employers of teenagers in the area in the Salt Lake Valley that they had a good turnout. So we anticipated having the same turnout."
Teens 14 years and older pick a department, fill out an application and proceed to the interview. It's a one-stop shop!
"The biggest tip that I give everyone is smile and eye contact. That's what we're looking for is people who are excited and happy and want to have fun," Gray said.
Lagoon hires about 2,500 employees every season for positions ranging from ride operator to food services. After rehiring employees from previous seasons, about 850 positions were left to be filled.
Many of the applicants were hired on the spot, and some say it's just in time.
Applicant James Alioto said, "I just really needed a job actually. I needed some money."
A Lagoon spokesman says it's hiring the same number of employees as they were last year, and there were also a few adults looking for part-time work.
There's another job fair on Saturday. For more information, click here.
E-mail: wjohnson@ksl.com
×
Related links
Most recent Utah stories