Estimated read time: 2-3 minutes
This archived news story is available only for your personal, non-commercial use. Information in the story may be outdated or superseded by additional information. Reading or replaying the story in its archived form does not constitute a republication of the story.
SALT LAKE CITY -- Darius Weems, 19, from Athens, Georgia, has a condition called Duchenne muscular dystrophy, one of nine types of the disease, and one of the most debilitating. It will most likely take his life before he reaches his 30s, but that's not stopping him from living a very full life.
When Darius was 15 his brother died of the same disease. It was then Darius and his friends decided it was time do something.
"I was 15 when I first left home, and I look back on that and kind of appreciate everything that my friends did for me. My friends kind of motivated me to do this," he said.
---
"It's not all about what you can do for yourself but how you can help others"
---
Confined to a wheelchair and dependent on others, the kid with the big smile and his friends jumped into an RV in 2005 and began touring the country. It was the ultimate road trip of 7,000 miles. It was the first time Darius had ever traveled away from his home town in Georgia.
His friends documented the trip, which is now a movie. It's not just about their many adventures; the DVD, called "Darius Goes West," is about spreading the word about the disease.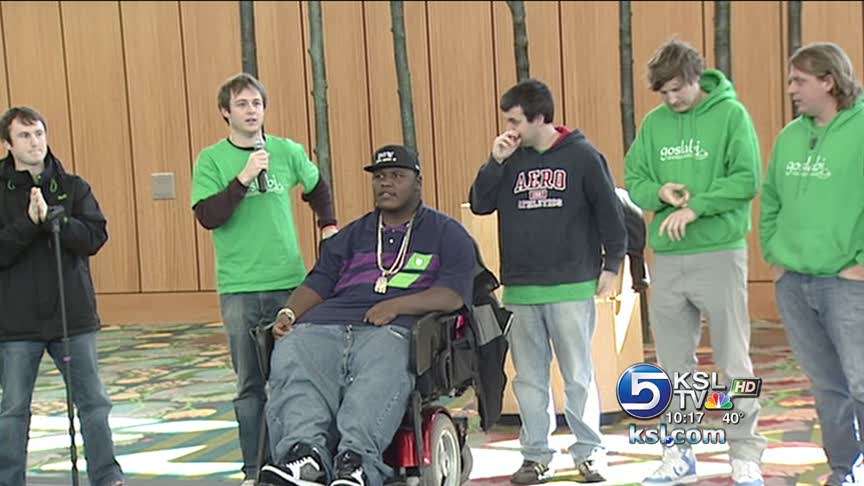 "It's not all about what you can do for yourself but how you can help others. My friends got out there and helped me, and now I'm able to be on the road and help people who have the same disease and spread awareness," Darius said.
With help from his pals, Darius did it all: played in the waves in the ocean for the first time; wore beads at Mardi Gras; took his first boat ride; flew in a hot air balloon; and visited the Grand Canyon, the spot he most wanted to see.
Now, Darius and his friends are back on the road, this time to continue the awareness campaign and to raise money to find a cure by selling the DVD, which has won numerous film festival awards.
So far they've raised $1.5 million. During his Salt Lake visit this week, Darius said there's more work to do.
"We're trying to sell a million DVDs in one year and raise $17 million for Duchenne muscular dystrophy," he said.
Darius says the journey was also about demonstrating that despite limitations, you can still get out there and enjoy life. In fact, he and his friends were out and about on Utah's ski slopes this weekend!
He told us that besides spreading the word about his disease, he learned that there are many places in the country that are still not wheelchair accessible. He'd like to change that too!
E-mail: kmccord@ksl.com
×
Related links
Most recent Utah stories