Estimated read time: 2-3 minutes
This archived news story is available only for your personal, non-commercial use. Information in the story may be outdated or superseded by additional information. Reading or replaying the story in its archived form does not constitute a republication of the story.
KAYSVILLE-- Twelve-year-old Timothy Crookston of Kaysville certainly knows about loving your neighbor. He's been helping to take care of his neighbors since he could walk.
Tim doesn't think he's anything special but his family, teachers and friends do. They turned out to help us give him a High 5.
Tim's neighbor, Pauline Ferree, said, "(He's a) very sweet young man. We love him in the neighborhood."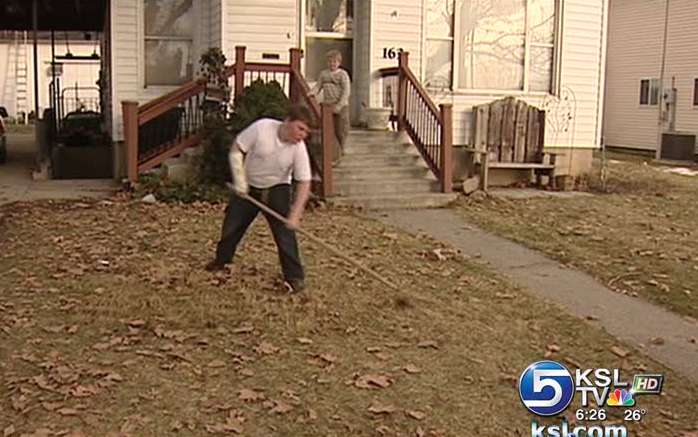 Tim's the neighborhood helper. He takes out the trash, cleans the yards, cleans houses and does whatever he can to help. He says he learned it from his family and teachers.
"I guess I just kind of learned that that's what you do when you live in a neighborhood," he said.
Not everyone does that, especially not 12 year olds. Tim admits that work is not always fun. "But it's kind of worth it afterwards when they're all happy and stuff," he explained.
Tim does more than just chores. He also visits those who need it, like another neighbor, Mrs. Smith. "I just kind of talked to her instead of leaving her in her house to keep to herself," he said.
To many of his neighbors, he's a true friend. Pauline Ferree said, "He mowed my grass all summer and has been a good friend to my little Nikolai."
Tim's grandmother, Barbara Pratt, nominated him for the High 5. "Since he's been able to cross the street, he's been checking on all the grandmas and grandpas in the neighborhood. Sometimes it's weekly and sometimes it's been daily," she said.
Over the years some of those neighbors have passed on. Their families have given Tim personal treasures in thanks.
It's clear Tim has touched a lot of lives. His payback: "Smiles and saying that I'm a very nice kid. I've heard that a million times." But, he says, it never gets old.
The Living Planet Aquarium heard about Tim and hooked his entire family up with annual passes. Tim responded, "That's awesome."
If you know someone deserving of a High 5, follow the link on this page.
×
Related links
Most recent Utah stories