Estimated read time: 3-4 minutes
This archived news story is available only for your personal, non-commercial use. Information in the story may be outdated or superseded by additional information. Reading or replaying the story in its archived form does not constitute a republication of the story.
Team CoverageA Draper neighborhood is on edge after a young woman was stabbed at her home Sunday night. She is expected to recover, and police are still looking for a suspect.
The woman tells police she answered a knock at her door near 11500 South and 700 West Sunday night around 8:30. She was met by at least one man wearing a dark hoodie over his head.
Sgt. Ron Jackson of the Draper Police Department said, "He did not say anything to her, just knocked on the door. She answered the door. He stabbed her in the abdomen and left."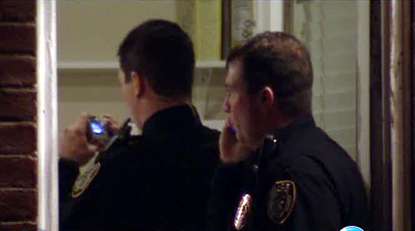 Police say they have gathered evidence from the scene and are currently in the process of interviewing the young woman who was stabbed. It appears that she will be O.K., but word of the attack has left neighbors unsettled.
"It's just a shock", said Lori Tolbert, who lives across the street.
"I've gotten to know this young couple that this happened to, and it's just a shock," she said.
Tolbert was having a family party Sunday night when police say the man or men knocked on her neighbor's door and stabbed the young woman who answered. Tolbert didn't see the stabbing, but when she heard it was at the home of the newly married couple who she'd gotten to know, she was shocked.
"Love them, they are a darling young couple," she said.
Police say they are taking the attack at face value and are calling it random, though further investigation may prove otherwise.
Sgt. Gerald Allred, with the Draper Police Department, said, "We're still looking at all the evidence we recovered last night. There's still potential that there could be a couple suspects in the community, but we're looking at all the evidence we recovered at the scene."
Sgt. Allred says investigators recovered both physical and forensic evidence from the scene but would not comment on whether a weapon had been recovered. He said only that the investigation was ongoing and that leads were being followed.
Neighbors we spoke to this morning both and off camera say the randomness of the attack is what is so upsetting.
"My daughter lives near, only about five houses away. I've spoken to her, she's very, very nervous, she's a 26-year-old, she's now scared to open her door because it was so random," Tolbert said.
Several neighbors we talked to say the young couple that live there moved in about 6 months ago. One neighbor she says she knows the couple well, and there is no way it could have been drug related.
Police are cautioning people to make sure they know who's at their door before they open it.
Similar incident reported Friday
Officers also are investigating another suspicious circumstance several blocks away. Ryan Farnworth says 2 young people rang the doorbell at his home around 11:30 Friday night. "They were just standing there with hoodies on," he said.
When he approached the door, the 2 fled. Farnworth thinks that may have been because he's 6 feet 7 inches tall and weighs about 240 pounds.
His wife Bobbi says she was frightened when she heard Monday's reports of the assault. "I figure that knife was meant for my abdomen. They were here first," she said.
But police don't know yet if the cases are connected.
E-mail: spark@ksl.com
E-mail: aadams@ksl.com
E-mail: mgiauque@ksl.com
×
Most recent Utah stories