Estimated read time: 2-3 minutes
This archived news story is available only for your personal, non-commercial use. Information in the story may be outdated or superseded by additional information. Reading or replaying the story in its archived form does not constitute a republication of the story.
Team coverageAbout two-dozen conservative lawmakers held a rally addressing gay rights today on Capitol Hill. They were making it a point to say Gov. Jon Huntsman doesn't speak for them on that issue.
It was all about the concern over same-sex civil unions for these lawmakers. The governor says he's OK with them. As it turns out, not only is that revelation making conservatives uncomfortable, but some of the gay activists on Capitol Hill as well.
This year at the Capitol, the people supporting "Common Ground Initiatives" are active. They say they want to reinforce Utah non-discrimination laws for things like jobs, housing and hospital visitation. Kim Hackford-Peer is lobbying for Common Ground. She says, "I think you can say you have it now, but just saying you have it now doesn't make it so. And there are a number of people who had it now, but lost it."
The citizens of Utah learned this week that Gov. Huntsman supports Common Ground initiatives and same-sex civil unions are OK with him. He says, "I think it's important that we find solutions, that we find common ground, as it were, on some of these difficult and divisive issues."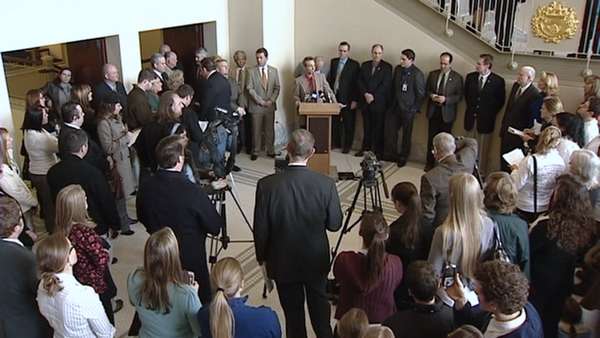 But this group of conservatives--lawmakers and citizens--believe there is danger in "Common Ground." Namely, that same-sex marriage is around the corner. At this point, to them, there is no common ground. Rep. Carl Wimmer, R-Herriman, said, "The citizens of this state spoke loud and clear that a marriage consists of one man and one woman."
Attorney Frank Mylar said, "While I respect very much Gov. Huntsman, he is dead wrong on this issue."
"This is not anti-gay," said Sen. John Valentine, R-Provo. "This is not anti-anybody. This is pro-family."
But at this point, Common Ground supporters are working to build trust and say their quest this year is not what conservatives seem to fear. Mike Thompson with Equality Utah said, "This is not about marriage. The fact that someone can lose their job or be evicted from their home has nothing to do with marriage."
Right now, the two remaining Common Ground bills are stuck behind the scenes. There is disagreement whether they should even be brought forward for a hearing this year.
E-mail: rpiatt@ksl.com
E-mail: aadams@ksl.com
E-mail: mrichards@ksl.com
×
Related stories
Most recent Utah stories