This archived news story is available only for your personal, non-commercial use. Information in the story may be outdated or superseded by additional information. Reading or replaying the story in its archived form does not constitute a republication of the story.
The courtroom was packed this morning as a teen accused of shooting and killing a fellow Kearns High School student appeared at a scheduling conference.
When Ricky Angilau shuffled shackled into the courtroom at the Matheson Courthouse in Salt Lake City, he looked up and to the back. There he saw his mother, uncles, brothers, cousins and friends. After the court appearance and outside, Defense Attorney Ron Yengich steered the family away from the media.
Yengich just recently took the case. Previously Angilau had been appointed a public defender. Today Yengich said, "All I know is what I've read in the paper. I've entered my appearance and will take it over and get working on it today."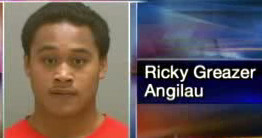 Angilau will return to court March 18 for a preliminary hearing. Yengich says the next court appearance seems soon, but they do want to get things going quickly. "If there aren't any hang ups on the discovery, we'll roll through it pretty quickly," he said.
Angilau is charged with murder and obstructing justice in the shooting death of 16-year-old Esteban Saidi on Jan. 21 near Kearns High.
Angilau is being held in the Salt Lake County Jail. Bail had been set at $1 million.
E-mail: mrichards@ksl.com
×
Related Stories