Estimated read time: 2-3 minutes
This archived news story is available only for your personal, non-commercial use. Information in the story may be outdated or superseded by additional information. Reading or replaying the story in its archived form does not constitute a republication of the story.
Investigators still are trying to piece together the events leading up to a murder-suicide that left two people dead Friday. While police continue their investigation, friends and family members are dealing with the grief, and one of the families is speaking out.
Family and friends of 33-year-old Kimberly Marvin are grief-stricken over Friday's sudden and tragic event. This afternoon her father, Allan Hooton, spoke briefly about her death. "You can understand if you have children yourself, and then suddenly just like that, they're gone," he said.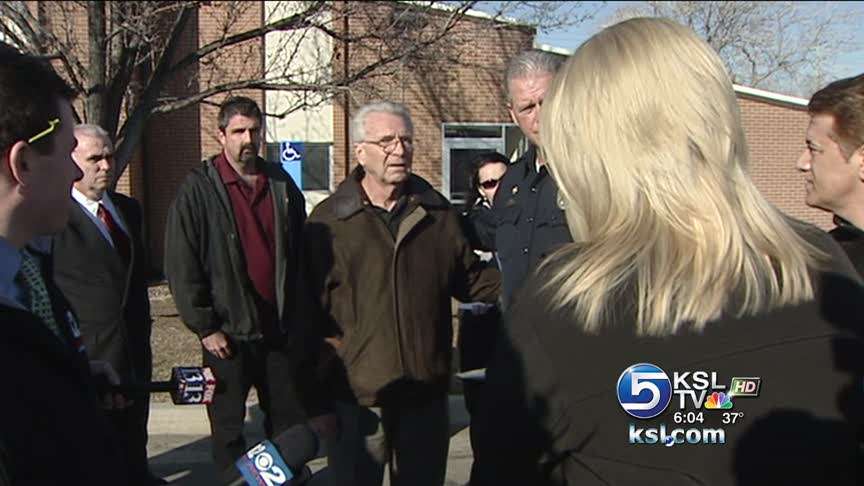 Holding a picture of his daughter, Hooton fought back tears as he talked about his daughter's life. "She was a beautiful gal and loved by everybody. (She was) the light of my life," he said.
The family's spokesman, Bishop Butch Alder, said, "Kimberly was a wonderful, loving mother who adored and cherished her children, loved the outdoors and lived a very vivacious life."
She died in a South Salt Lake parking lot near 240 E. 2400 South Friday afternoon. Her ex-boyfriend, 33-year-old Jeremy Scott Taylor, shot her several times in the upper torso before turning the gun on himself.
Police say the two had known each other for years but had ended their relationship six months ago.
Gary Keller of the South Salt Lake Police Department said, "They knew each other about three years, from what I'm told. They dated off and on, but this was not an active relationship."
Police are investigating whether Taylor had threatened Marvin prior to their deaths. But so far, police say they have no motive.
"We're going through all the evidence. We're going through witness statements and text messages and all that, trying to put all the pieces of the puzzle back together," Keller explained.
Kimberly Marvin was the mother of two children, a 13-year-old boy, and a 10-year-old girl.
This evening, the family of Jeremy Scott Taylor released a statement that addresses them. It reads: "Our hearts go out to Kimberly's surviving children, parents and family members. We hope in some way we can reach out to them in this tragic time of loss and grief. Our thoughts and prayers are with them, and we pray God will bless them with comfort and healing."
Jeremy Taylor was also a father. He leaves behind a 13-year-old daughter.
Bishop Alder read a statement from Kimberly's family today. It said, "The family of Kimberly Marvin is grief-stricken over the sudden and tragic loss of their beloved mother, daughter, sister, and granddaughter. She was a bright and beautiful young woman whose life ended abruptly and without warning. She will be sorely missed by all those who knew and loved her. A memorial fund has been set up at any Wells Fargo branch under Kimberly Marvin."
E-mail: spark@ksl.com
×
Related stories
Most recent Utah stories