Estimated read time: 2-3 minutes
This archived news story is available only for your personal, non-commercial use. Information in the story may be outdated or superseded by additional information. Reading or replaying the story in its archived form does not constitute a republication of the story.
The state's budget battle continues, and every state agency is caught in the middle. But anticipated cuts are a major concern for college students across the state, and today hundreds of those students took their concerns to Capitol Hill.
Protesters held signs for lawmakers to see. Some of the signs said, "Education over asphalt" and "Utah students deserve more."
The issue, a proposed 19 percent budget cut for higher education; a cut that could potentially end jobs, cut degrees and eliminate educational programs.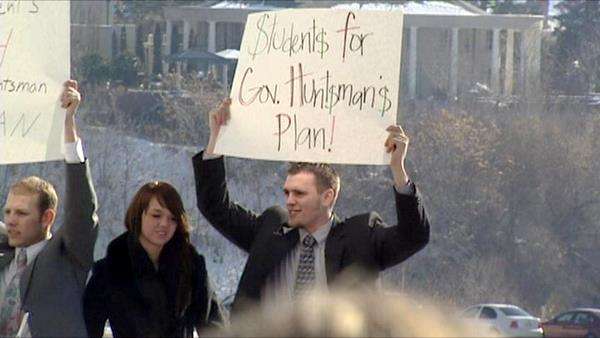 The students came from all over the state to plead with lawmakers to not let that happen. Lindsay Johnson said, "I'm at student at UVU, and it's just really important to me that the programs I'm involved in don't lose more money."
"I'm from Snow College, and we've already had 8 percent cuts and another 11 percent cut would be really devastating to the college," Alex Peterson said. "I think education is the engine of a building economy, and to take that money away from education is drastic at this time."
Grady Brimley said, "Different programs in the school will be cut. I would just hate for [other students] to go through school without some of the things that I've had."
At today's protest, lawmakers announced that 3.62 percent will be going back into the 2009 budget. And while that may provide a small relief to some institutions, protesters say it's not enough. They want legislators to use Gov. Jon Huntsman's proposed plan of an 11 percent cut over three years. Johnson said, "I think it's a reasonable request, you know? We're not asking them to not take any cut budgets. We understand that the economy is in a hard time right now, but just not as much as the legislation proposed originally."
After gathering on the steps of the Capitol, hundreds of protesters moved into the House chamber to show lawmakers just how serious they really are.
Scott Wyatt, president of Snow College, attended today's protest and says lawmakers should consider using money from the rainy-day fund. He says, "They can easily moderate by at least half the budget cuts they are talking about for next year, and if the recession continues, the year after and the year after that."
Wyatt says education will suffer if lawmakers follow through on the cut.
E-mail: spark@ksl.com
×
Related links
Most recent Utah stories