Estimated read time: 3-4 minutes
This archived news story is available only for your personal, non-commercial use. Information in the story may be outdated or superseded by additional information. Reading or replaying the story in its archived form does not constitute a republication of the story.
Team coverageLast night's snow storm caused some major problems around the state, especially for those on the roads this morning.
Several areas in the valley received 3 to 4 inches of snow. For some that doesn't sound like a lot, but it was enough to cause some major damage.
For Jeremy Rother with Jordine Services, it's been a busy morning helping drivers with today's storm. "We been having customers being held up for a couple of hours waiting for us to come pick them up," Rother said.
The tow truck driver wasn't immune to the bad weather. Rother said, "The snow lifted up my spoons, which are holding up the tires and not letting my pins lock in the way they should, so I have to take extra precaution when letting it down."
From 10:00 last night to 10:00 this morning, the Utah Highway Patrol responded to 57 crashes, 13 injury crashes and 13 slide-offs in Salt Lake County.
In Utah County, drivers seemed to handle the snow a little better. The UHP responded to only 10 crashes and seven slide-offs.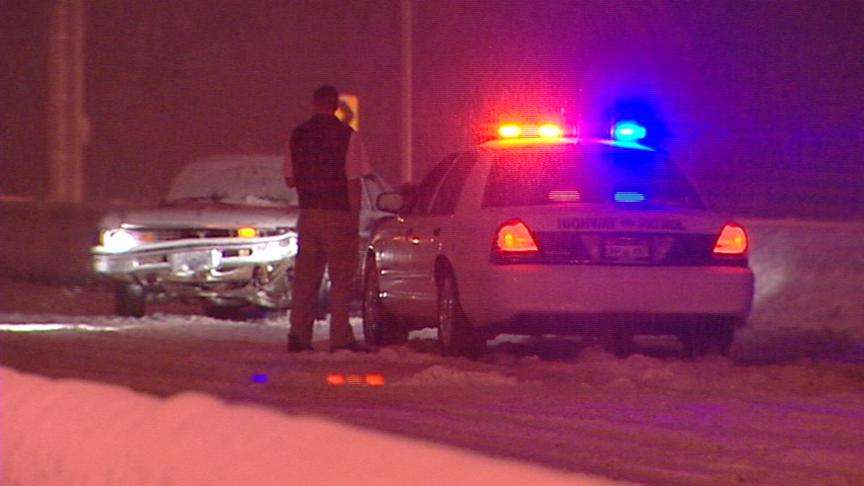 Big traffic backups were reported on northbound Interstate 15 between 12300 South and 7200 South. It was also was slow-going on southbound I-15 in parts of Davis County. Listeners told KSL there were major delays on State Road 73 from Eagle Mountain to Lehi.
The snow took some people by surprise. A motorist, Jerry Quist, had to stop in North Salt Lake to dump more windshield wiper fluid into his car. "I couldn't clean the windshields," he said.
Mike Fisher shoveled the sidewalks at the Smith's in Bountiful. "I came from Layton, and (on) Highway 89 (it) was snowing pretty hard," he said.
An elderly couple hit a patch of snow and ended up in someone's front yard near 4200 South and 700 East. Witness Jason Bishop said, "They kind of overcorrected, wound up sideways and then hit a large rock in the island there, rolled two times and then came to stop."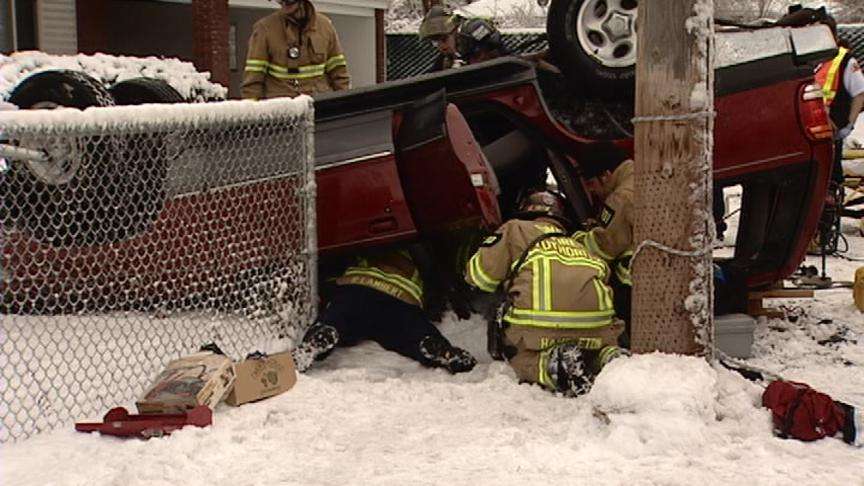 It took firefighters nearly 20 minutes to cut the couple free from the car; both were transported to the hospital with injuries but are expected to be OK.
Deputy Chris Christensen, with the Salt Lake County Sheriff's Office, said, "There have been several accidents. I left another accident and came to this one. While we've been on this one, we've been informed of other accidents also that other deputies are going to respond to."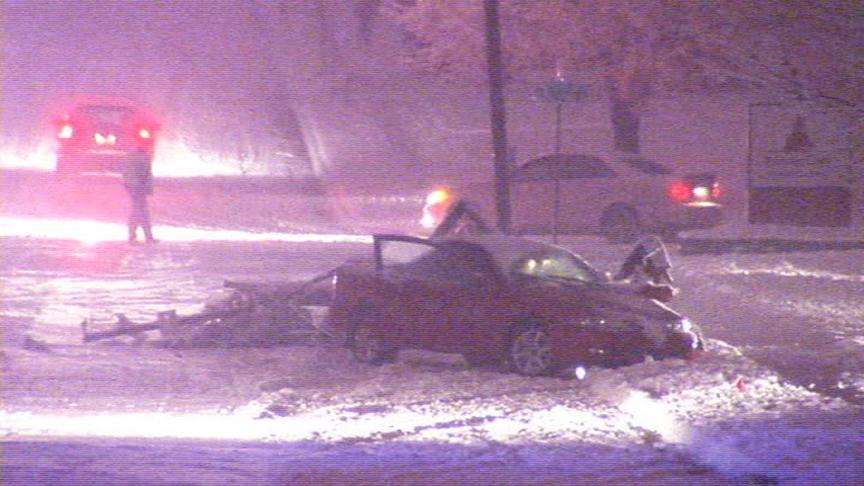 Heavy Snow fall also left several people in the dark this morning. In Sandy near 9100 South, a driver spun out of control and knocked a power line down across 1300 East. Witness Rob Bingle said, "I heard this really loud electrical static sound, and the power went out just like that." About 7,300 Sandy homes were without power until midnight.
This morning there were power outages along 200 West and North Temple, and 328 homes had no power in Vernal. We are told that power has been restored and there are no outages still active at this time.
Avalanche danger is considerable in most parts of the state.
E-mail: abutterfield@ksl.com
E-mail: spark@ksl.com
E-mail: tcallan@ksl.com
E-mail: mrichards@ksl.com
×
Related links
Related stories
Most recent Utah stories