Estimated read time: 3-4 minutes
This archived news story is available only for your personal, non-commercial use. Information in the story may be outdated or superseded by additional information. Reading or replaying the story in its archived form does not constitute a republication of the story.
Twenty-five years ago, Robert Redford and his Sundance Institute took over a fledgling film festival in Utah, and as they say, the rest is history.
In those early days, they were just hoping to sell tickets. Clearly, many people got that message, but Redford believes that he and his institute have given filmmakers from around the world a showcase, a place to tell their stories.
Last year, "In Bruges" was the Sundance Film Festival's opening night premiere. This year, it had three Golden Globe nominations and Collin Farrell won for best actor.
Whatever happens at Sundance is news, but there were leaner days when a man with independent vision decided filmmakers who could never get their stories told in Hollywood needed a chance. That was 1985.
"It took about five years before I felt we would survive, because we were doing it in Park City, and in those days, there was just the one theater: The Egyptian. I'd be standing out on the street just trying to get people to come into the theater," Redford said.
In another five years, the festival grew so much, Redford says it sprouted attachments not related to film, creating a problem. It all started with Hollywood actors.
"Once they came, the paparazzi came. Once the paparazzi came, fashion came. Once fashion came, Paris Hilton came and suddenly, I had to deal with the fact that we were being perceived as a festival which was going the way of all flash, which was never true," Redford said.
This year, there may be another problem. Protesters against California's Proposition 8 have called for a boycott of Utah, including the Sundance Film Festival. The owner of Cinemark, a theater chain that shows festival films in Park City, supported the proposition.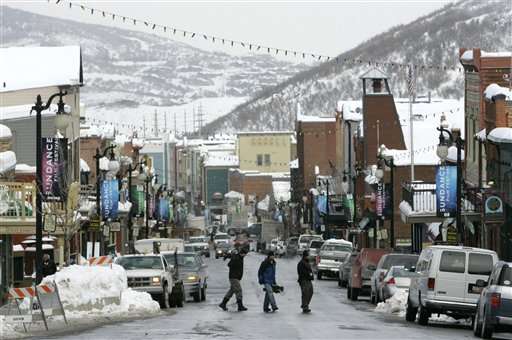 "I think that's a temporary thing. If you want to not attend that theater, then that's your choice, but you can't look at the festival in any way other than we've been diverse for so many years. All kinds of films and filmmakers representing all kinds of gender, class, race; we broke that ground so many years ago, it's kind of self-defeating to try to boycott the festival which is in their favor," Redford said.
He admits all of this has come at a personal cost. "If there's been any, any negative part of this, it's that I've lost a lot of my own career time endorsing and sponsoring Sundance, probably more time than I ever dreamed. But I believed in it, so I did it," he said.
The Sundance Institute will continue to be a place for developing new talent, and Redford says he moves forward with film projects in poetic fashion.
"That's all there is, just to continue. The rest is not our business. Do you remember what T.S. Eliot said? 'There's only the trying, the rest is not our business.' That's pretty much the way I feel," he said.
There is much more with Robert Redford tomorrow on Eyewitness News at 6:30. We'll talk festival history and Sarah Dallof will take you to opening night in Park City.
E-mail: cmikita@ksl.com
×
Most recent Utah stories