Estimated read time: 2-3 minutes
This archived news story is available only for your personal, non-commercial use. Information in the story may be outdated or superseded by additional information. Reading or replaying the story in its archived form does not constitute a republication of the story.
Team CoverageAn avalanche in Utah's backcountry claimed the life of a 15-year-old boy. Hayden Ellingford of Evanston, Wyo., was snowmobiling with his father and two brothers on the popular snowmobiling slope known as Yamaha Hill when he was swept under the snow.
Just before 4:30 yesterday afternoon, he was caught in the slide that broke loose in the Windy Ridge Moffit Basin area in the Uinta National Forest just northeast of Kamas.
Summit County sheriff's Sgt. Nick Wilkinson says Ellingford did not have an avalanche beacon. It took rescue crews about an hour and a half to find the teen, but by then it was too late.
"A partner agency of ours from Evanston, Wyo., was first on the scene and was able to locate the individual. But he'd been in the snow field for, my understanding, well over an hour," said Summit County sheriff's Capt. Dean Carr.
Carr says the slide was 400 feet wide and it was deep. "If you're buried that deep and I understand the head of the snow was six feet deep, which just gets deeper as it goes down the hill. There's practically no hope at all," he said.
Wilkinson said it's unknown if the snowmobiles triggered the avalanche. Another large avalanche was reported near the same area yesterday. The avalanche hit in an area forecasters deemed treacherous. That's because we're seeing conditions right now that are a recipe for avalanches.
Six people now have been killed by avalanches in Moffit Basin in Summit County since 2001. This happened around Windy Summit Peak. It's such a remote area that out-of-state crews reached Ellingford first.
This is the fourth avalanche death this month in Utah. A skier was the first to die, at the hands of a Dec. 14 in-bounds avalanche at Snowbird. Christmas Eve, two snowmobilers were killed on Logan Peak.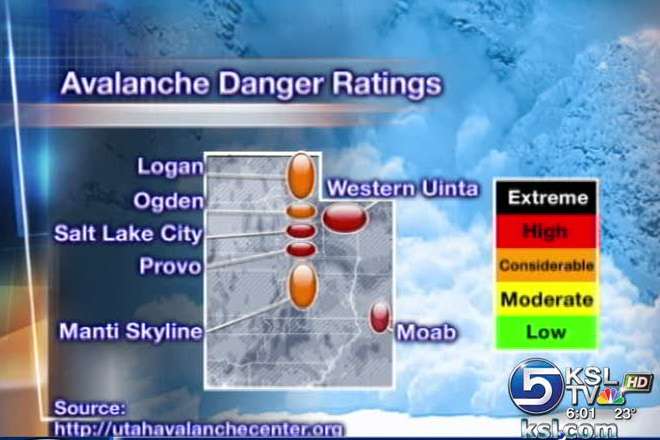 With each snow storm, the risk of an avalanche goes up, especially on any slope above 8,500 feet that faces northwest or northeast and is steeper than about 30 degrees. This latest avalanche was on a slope above 10,000 feet.
Avalanche experts say this snowpack is unusual: There's weak, sugary snow underneath the relatively new snow. Forecaster Bruce Tremper says it's also scary that three deaths have happened in-bounds at resorts in the U.S.
"So if it's fooling the best avalanche experts in the country, it can fool anyone, me included. So avoidance is still the best policy," he said.
Tremper says the danger has been downgraded from extreme to high and also considerable, which makes people bolder.
Many of the risky areas have already had avalanches, but still there are many slopes hanging in the balance just waiting for a trigger. That trigger can come from the bottom or adjacent slopes or ridges.
E-mail: aadams@ksl.com
E-mail: spark@ksl.com
E-mail: mrichards@ksl.com
E-mail: rjeppesen@ksl.com
×
Related links
Most recent Utah stories