Estimated read time: 2-3 minutes
This archived news story is available only for your personal, non-commercial use. Information in the story may be outdated or superseded by additional information. Reading or replaying the story in its archived form does not constitute a republication of the story.
President Bush spoke from the White House this morning to announce short term loans for GM and Chrysler. He talked about the fundamental questions of the role of government. He said allowing the market to rule now would lead to disorderly bankruptcy. President Bush said he would not leave the next president to confront the demise of the auto industry in his first days in office. Then the President announced a grant of loans to auto companies under conditions similar to what Congress has approved. Click here to hear the President's comments.

Charles Herman talked with Tim and Amanda about those loans. He described the auto loans as not just passing the buck to the Obama adminstration, but as substantive in that they will keep GM and Chrysler from going under. Charles also talked about today being quadruple witching day. It's a phrase used to describe the convergence of stock option contracts and often leads to wild several hundred point swings on Wall Street. Click here to hear more from Charles.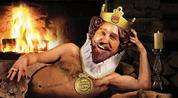 Looking to beef up your mojo this holiday season? Burger King may have just the thing. The home of the Whopper has launched a new men's body spray called "Flame," which it describes as "the scent of seduction with a hint of flame-broiled meat." The fast food chain is marketing the product through a Web site featuring a photo of its King character reclining fireside and naked, except for an animal fur strategically placed to not offend. The marketing ploy is the latest in a string of virile ad campaigns by the company. Burger King is also in the midst of its Whopper Virgins campaign that features an taste test with fast-food "virgins" pitting the Whopper against McDonald's Big Mac.
×
Most recent News stories