Estimated read time: 2-3 minutes
This archived news story is available only for your personal, non-commercial use. Information in the story may be outdated or superseded by additional information. Reading or replaying the story in its archived form does not constitute a republication of the story.
The Salt Lake County Sheriff's Office is bringing back a program to bolster its numbers without spending a lot of money. Today, the office swore in nine reserve deputies as a way to get more deputies on the street without having to hire more people.
Shayne Wood could hardly stop smiling as Sheriff Jim Winder welcomed him to the force. "Some people see something bad and run; some people are the type they run towards the danger. That's the kind of people I am I guess," Wood said.
Wood and eight others have committed to serving 20 hours a week for the county for free. They've been through the same training as their paid counterparts and will be asked to do the same things deputies on the payroll do, but they will receive no money for it.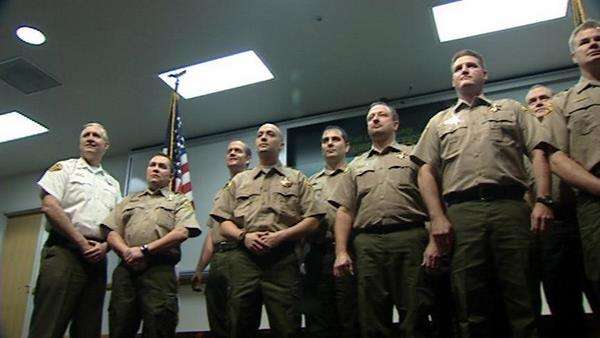 New reserve deputy Zac Bellock already has a full-time job, but he's considering pursuing a career in law enforcement. "I kinda view it like an internship," he said.
It's a dangerous internship, considering what Sheriff Winder told the group: During tough economic times, the crime rate goes up. "We fully anticipate an increase in crime with this current downturn. In fact, we're already seeing it," he said.
"Sure, I could be shot, whatever. I could be hurt," Bellock said. But he wants the experience and knows if things go well as a reserve, he could make this a career.
The reserve program started about 35 years ago. But for the past decade, it's been suspended. This group is the first to be sworn in since the program has been reinstated.
Family and friends were there to watch their loved ones become deputies, including Bellock's dad. "I think he's going to represent the county really well, super proud of him," Skip Bellock said.
The only thing that will differentiate a reserve deputy from a deputy is on their badge. It will say "reserve." The sheriff's office says reserves will be treated just like a deputy.
The sheriff's office is also looking for more volunteers for the next batch of reserves. To find out more, CLICK HERE or call 801-743-7000.
E-mail: rjeppesen@ksl.com
E-mail: abutterfield@ksl.com
×
Related links
Most recent Utah stories