Estimated read time: 6-7 minutes
MURRAY — The 1986 truck doesn't look like much.
There's a crack down the front windshield, one of the rims is broken and the inside is covered in a layer of dust. Its silver exterior peaks out in splotches from underneath the remains of a red vinyl wrap thanks to an attempted DIY removal that was cut short by last year's summer heat.
A few signs of its former life as a Mexican food truck still linger: a partial website URL on the outside, a collection of bumper stickers above the driver's seat and, most obviously, the sinks, flat top grill and stove inside.
But for Erika and Ellie Yagi, the truck represents a dream and the community that's helped launch their dumpling business to this point. The married couple hopes to transform the vehicle into a fully functional food truck by July.
If all goes according to plan, the truck will soon be outfitted with new tires, a slate blue vinyl wrap and some additional kitchen gear. The Yagis hope to bring the vehicle to life with a cartoon version of Ellie Yagi on the main door, a design of dumplings on the back of the truck, the Yagi name spelled out in Japanese on the hood, a pride rainbow that will wrap along the truck and a funky horn.
Starting from scratch
Yagi's Dump Truck launched in 2021 in the Yagis' home kitchen, where Ellie Yagi makes thousands of dumplings by hand. Erika Yagi calls herself the "back of the house" and focuses on the administrative tails and ends of the business.
Although Ellie Yagi always wanted to have her own food spot, a pandemic-forced layoff gave her the push to finally pursue the dream.
"During COVID shutdowns, it just seemed like the right time to take advantage and make some extra cash on the side," Ellie Yagi said.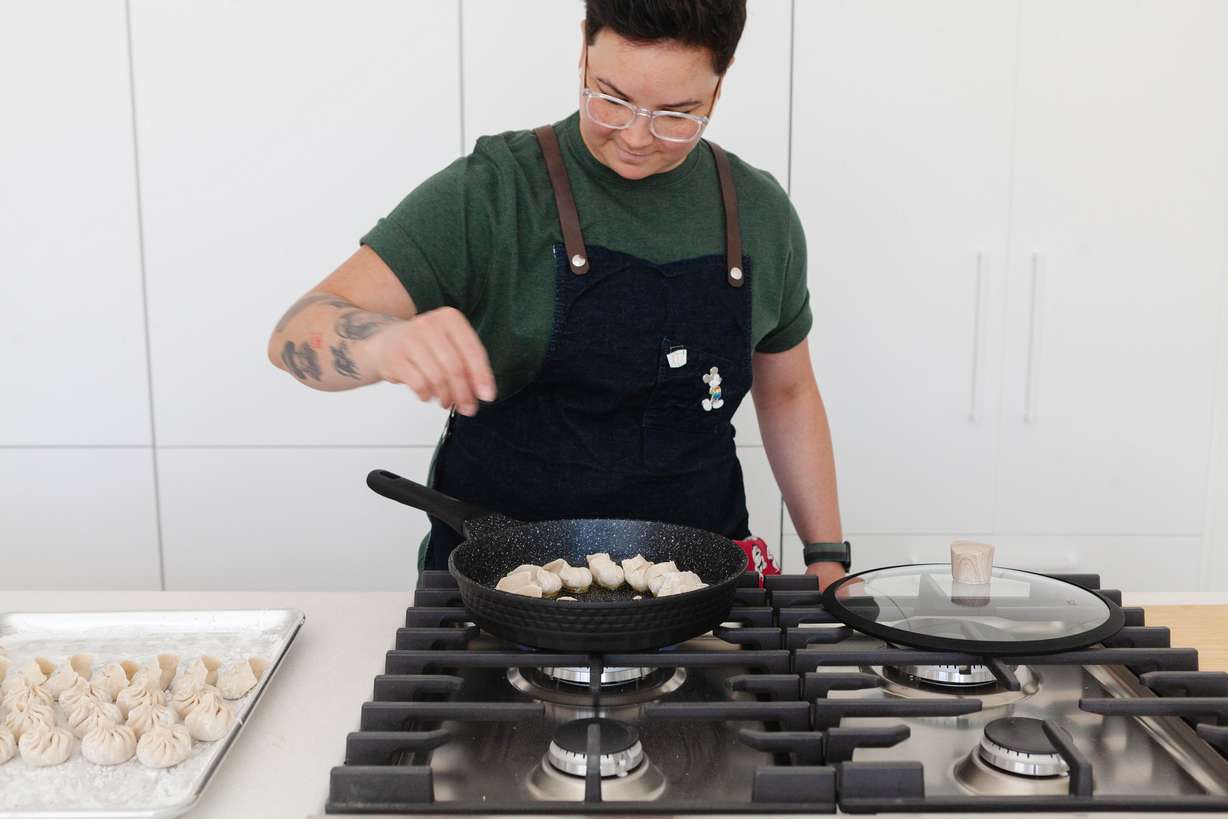 She settled on a dumpling business as a way to connect more with her Japanese heritage. While she grew up eating mochi, sushi and dumplings at family gatherings and being proud to bring those foods to school, she also saw how her parents and grandparents had to hide their culture in order to survive and conform to the white American mold.
"Being Japanese for my family was very hard when they were younger; like when my dad was a kid, he wasn't taught Japanese because it was very important for people to see you as white. My grandparents knew people that were in the internment camps," she said. "For me, it's more so taking back the culture and being proud of it."
That doesn't mean Yagi is fully wedded to tradition. Although her signature recipe is a traditional pork gyoza, Yagi also rotates the menu every week or so with a variety of experimental dumpling flavors that have included vegan options, funeral potato, strawberry rhubarb pie, French onion soup and pozole. The latter is a way to mesh Erika Yagi's Mexican heritage with Ellie Yagi's Japanese culture, the couple says.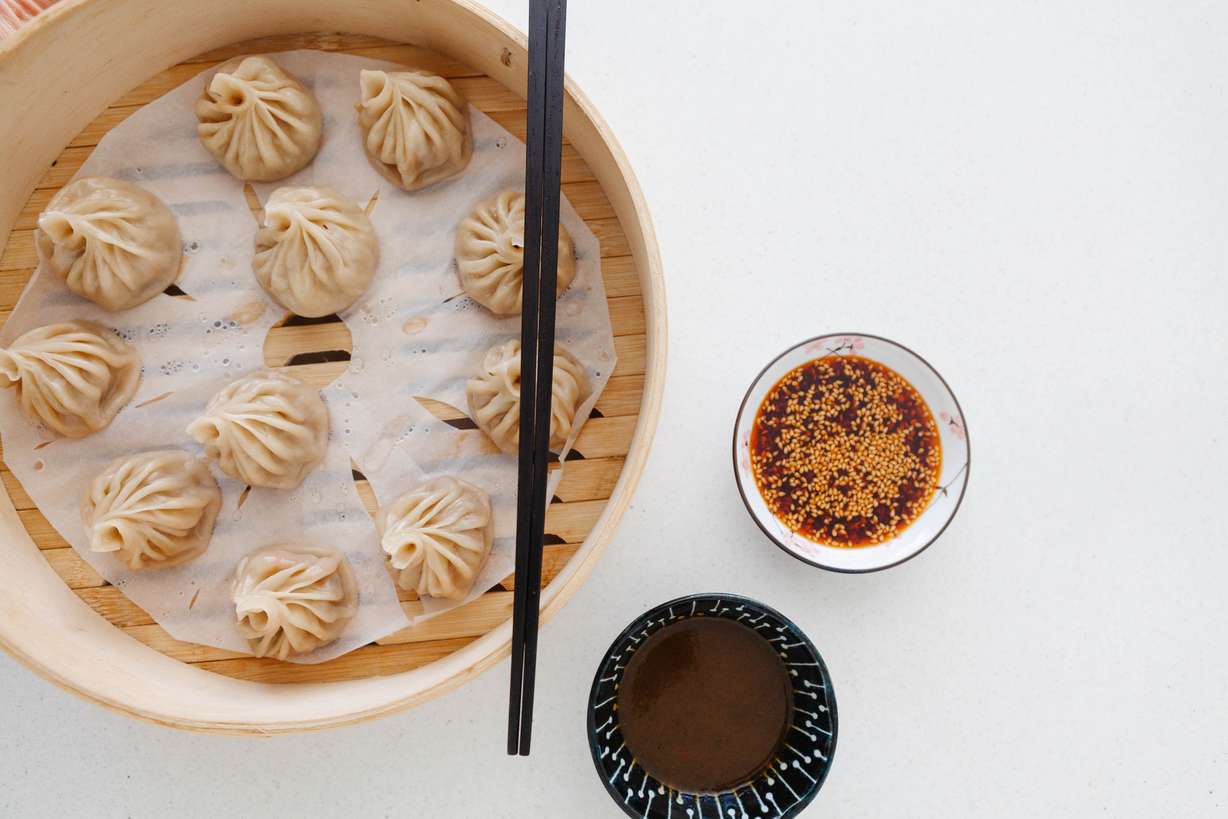 "Asian food is definitely her passion, and she just figured dumplings was the way to go because she can put anything in a dumpling," said Ericka Yagi, who was her wife's guinea pig for many of the recipes. "She decided why don't I just start advertising on Instagram and just seeing if anyone wants frozen dumplings so that they can have them at home and it was definitely successful. It took off a lot faster than we intended."
It takes a village
When the Yagis launched the business two years ago, they didn't fully realize what it would take to bring the business to life.
"It takes a village, and you don't realize that," Ellie Yagi said. "When we first jumped in, I thought we'd be up and running in like two months. It's been almost two years since we bought the truck. So we're getting there. ... It's just been a balancing act of trying to figure out how the best way to like get this funded and get it up and running."
Over the past two years, the Yagis say the business has received help both big and small. The support has ranged from a surprise fundraiser from Ellie Yagi's regulars at her previous restaurant job at Publik Kitchen to a free parking space for the truck at a family member's home while the truck is brought up to snuff.
"When it comes down to community and friends, it's been awesome. I'm not a Salt Lake native, Ellie is, and it's crazy to see how many people are willing to step in and be like, 'What do you need? Let's get you up and running. This is what I can provide,'" Erkia Yagi said. "It's been great to see the outpouring of support."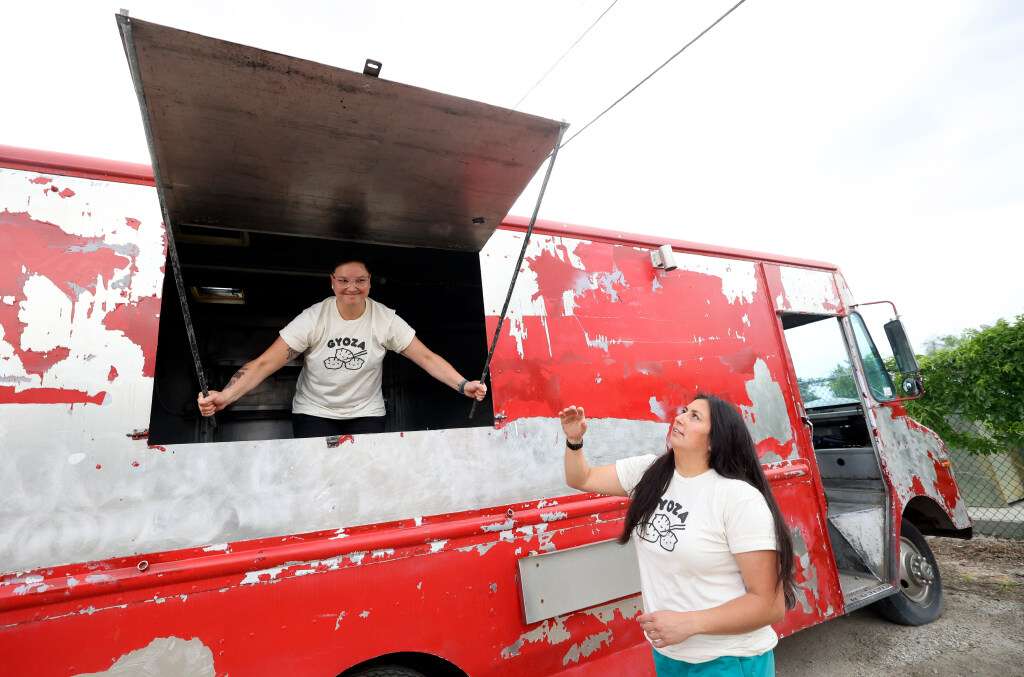 The latest community support has come in the form of a T-shirt fundraiser by Utah-based kids clothing brand Mochi Kids. Owner Amanda Stewart discovered the business on Instagram and felt it was the perfect cause to highlight during Asian and Pacific Islander Heritage Month.
"We've ordered from them pretty much weekly for a couple years. I think I'm one of her most diehard customers," she said. "I've kind of been just anxiously waiting for the truck to open because they definitely are amazing."
Many of Stewart's designs are inspired by Asian American culture, and the fundraiser shirt for Yagi's Dump Truck is no different. It features the word "gyoza" and a handful of cartoon gyoza. Stewart has done a number of fundraisers for local and national nonprofits, but this is the first time she's fundraised for a business.
"Asian American businesses have been hurt the most during the pandemic because there was this intersection of Asian American hate crimes with the pandemic already being a struggle for businesses in the food specific industry," Stewart said. "There are lots of reasons why Asian American businesses need support. And I think it would be a beautiful thing to put more dumplings into the world and to help this business achieve their dream."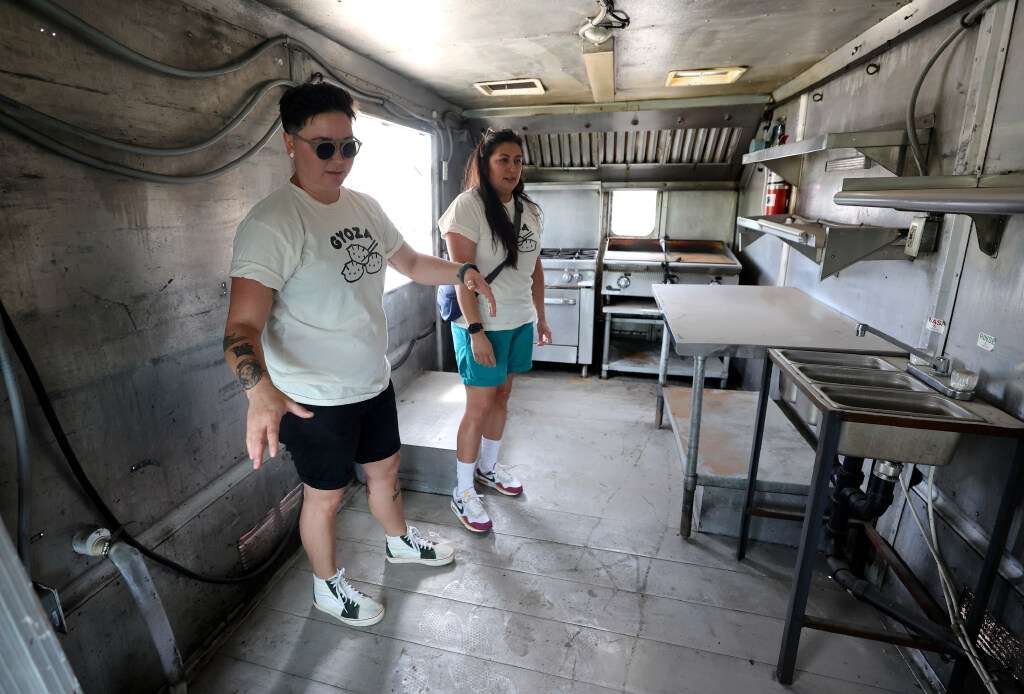 The Yagis plan on using the proceeds to pay for new tires, vinyl wrapping on the truck, a freezer for inside the truck and any minor mechanical maintenance.
Future plans
The Yagis plan on running the business out of ComComKitchen, which will allow production to expand from the limits of their home kitchen. In the past, Ellie Yagi has split up weekly orders because she didn't have enough freezer space.
They also plan on hiring one or two employees and selling outside of Fisher Brewing Company in Salt Lake City once a week.
In the future, the couple also hopes to have a fleet of food trucks that are inspired by different Japanese foods and possibly a condiment shop where they can highlight their love of mustards, sauces and butters.
"We have a village that supports us for sure," Ellie Yagi said. "I think that's why yes, I've been scared and terrified to own my own business, but also I feel very supported. I know that if I fall, I have a million hands to pick me up."
×
Photos
Most recent Multicultural Utah stories