Estimated read time: 4-5 minutes
SALT LAKE CITY — The Environmental Protection Agency this week unveiled its final "good neighbor" plan, seeking to "significantly cut smog-forming nitrogen oxide pollution" from power plants and industrial facilities in nearly two dozen states, including Utah.
Environmental groups are hailing it as a major step toward reducing carbon emissions. However, Utah Gov. Spencer Cox and other state leaders argue that the new plan could lead to serious energy problems because it could phase out power plants too soon.
"We're very disappointed in this in ozone transfer rule that was released by the (Biden) administration," Cox said during his monthly news conference Thursday. "We are doing energy the right way here in the state of Utah. And that is that we're working on an all-of-the-above energy policy."
What is the 'good neighbor' plan?
The EPA has implemented "good neighbor" requirements since the 1990s, as a component of the Clean Air Act. The legislation, among other things, directs the agency to act on air quality issues like ground-level ozone, also known as smog, that forms in one state and travels to another. Smog can result in respiratory issues, which can have major health and economic consequences, the agency says.
The new rule pinpoints power plants and industrial facilities in 23 states, including Utah, California and Nevada in the West, in an effort to get the states back on track with the Clean Air Act. The areas were selected based on Ozone National Ambient Air Quality Standards data updated in 2015.
"Every community deserves fresh air to breathe (and) we know air pollution doesn't stop at the state line, Michael Regan, EPA administrator, said in a statement Wednesday.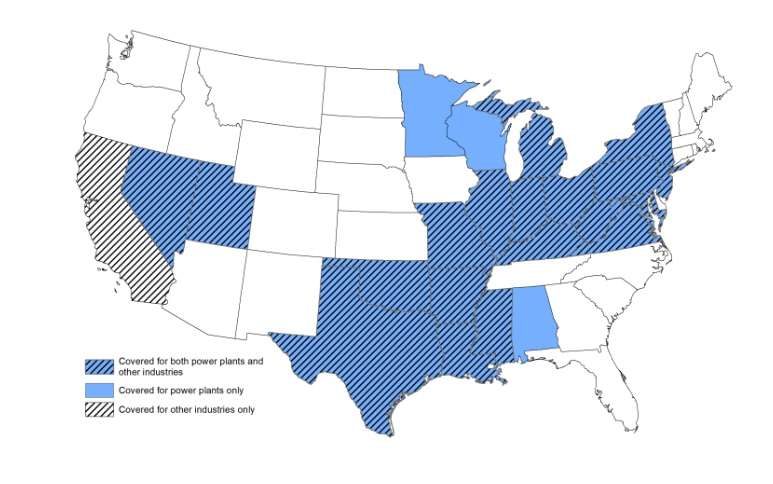 The plan calls on Utah and the other states to submit plans that seek to reduce emissions from fossil fuel-fired plants and industrial plants to meet federal standards. The federal government would take over to ensure downwind states are protected if a state fails to submit a plan or its denied by the EPA.
The agency projects that the rule will reduce nitrogen oxide production from power plants by 50% in the next four years. It does the same for industrial plants that produce cement, iron and steel, glass and other products, seeking a 15% reduction from 2019 nitrogen oxide levels.
Environmental groups like the California-based nonprofit Earthjustice celebrated Wednesday's announcement. They were among the advocates that pushed the EPA to finalize the plan.
Kathleen Riley, an attorney for the organization, said states had "failed" to reach pollution obligations, which has resulted in smog becoming a persistent problem for millions of Americans.
"Communities across the country that have too long suffered from harmful smog pollution originating in upwind states, she said in a statement.
Utah's concerns
But Utah leaders don't see it the same way. Cox, Utah Attorney General Sean Reyes, Utah's legislative leadership and congressional representatives released a combined statement Wednesday blasting the rule hours after it was announced, asserting that the "egregious power grab" could put the state's energy needs at risk and raise current energy prices.
The governor also didn't mince words when asked about it Thursday, saying it won't improve the global carbon issue as the administration believes.
"We believe that this is incredibly reckless," he said. "It harms the economy, it harms the people who can least afford it. It just makes no logical sense whatsoever. It will not have a net reduction on global carbon emissions. It's just ridiculous."
It could also cause power plants to close before they are currently scheduled to be phased out, Cox said. He added while Utah is investing more in solar, wind and geothermal energy, and working with other Western states on a hydrogen hub, those sources combined aren't ready to take over the state's energy needs.
The U.S. Energy Information Administration notes that coal accounted for just over 60% of Utah's total electricity net generation in 2021, down from 75% in 2016. Natural gas accounted for another 24%. The report adds that while renewable sources are growing, they only accounted for about 14% of the total electricity generation two years ago and may reach 20% by 2025.
"(It) would put — we estimate that upwards of 2 million people — at risk for blackouts," Cox said. "It would make energy much more expensive. We've seen what happens when we don't have base load energy and the grid isn't where it should be."
The plan going forward
EPA officials say that the plan will begin during this year's ozone season for power plants. The industrial facilities component is scheduled to take effect in 2026, agency officials added.
However, Cox said Thursday that he expects Utah will challenge the new rule in the courts.
It's unclear yet when that lawsuit will be filed and if it will alter any of the EPA's timelines.
Contributing: Associated Press
×
Most recent Utah air quality stories